Crosscuts: Brief Dvd Reviews
Grant Tracey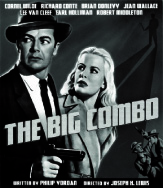 Naked City: Season Two (1961–62), RLJ and Image, 27 hrs, $44.99 • This season marked the series' change from a half-hour to full-hour format, a greater emphasis on character over plot, and the additions of Paul Burke (as detective Adam Flint) and Nancy Malone (as an aspiring actress and Flint's girlfriend Libby Kingston). Burke brings empathy to every scene he's in. He cares about the people of New York, and as Libby says in one of the season's early episodes, "For Adam, every life is important." Flint isn't jaded like the cops of The Wire or The Shield. He doesn't have personal demons (alcoholism, troubles with fidelity, or a penchant for sadism). He's decent, caring, and in all of his scenes listens and remains attentive. Along with regulars Burke and Malone, each episode features the city as a supporting player. Shot in the heart of NYC and not Hollywood, the series takes us back to early television, when everything was out of New York. The city's grit and grime scrapes along the sides of cars; snow piles on the sidewalks; and wet footprints linger on diner floors long after being crossed over. Such moment-to-moment realism creates auras of authenticity. And the second season is marked by some truly great episodes: in "A Hole in The City," Robert Duvall is a delusional gunman trying to return to an irretrievable past; in "Bullets Cost Too Much," Flint has to defend his reasons for not drawing his gun during a hold-up; in "Tombstone for a Derelict" Robert Redford guests as a callow youth who believes in killing the homeless to make known the problems of the world; and in "Sweet Prince of Delancey Street," guest starring Dustin Hoffman, Flint
tries to unpack a Rashomon-esque storyline, involving murder and competing father/son testimonies. "There are eight million stories in the naked city" and every one of them is worth listening to.
The Big Combo (1955), Olive Films, 87 mins, 2013, $19.95 • Seamy, atmospheric and painted with light by DP John Alton, this moody noir masterpiece focuses on Leonard Diamond (Cornell Wilde), a tough, honest cop who wants to bring down a Napeolonic kingpin, Mr. Brown (Richard Conte). The wrinkle: Diamond's in love with Brown's girl: Susan Lowell (Jean Wallace). As the narrative spins around these double-obsessions, we sink into a demimonde of unsavory lowlifes, mayhem, and seediness. Director Joseph H. Lewis and Alton render up classic noir moments: Lowell, seen and unseen, is chased along the bowels of a boxing ring, slipping in and out of shadows as she tries to outrun Brown's muscle (Fante and Mingo) and herself; a hearing-impaired gangster is executed by two hit men, and as the machine guns blast, we hear nothing, seeing and feeling McClure's final exit from his poetic perspective of slo-mo shimmers; and in the last scene, dark backlighting silhouettes Lowell and Diamond, creating an offbeat and arresting romantic halo. 
The Best Years of Our Lives (1946), Warner Bros., 2012, 170 mins, $14.97 • An intensely bright film bristling with feeling, this unabashed work of social realism looks at the adjustment troubles of three returning vets: Dana Andrews (Fred Derry) who comes home to a failing marriage and lack of career advancement; Harold Russell (Homer Parrish), a bi-lateral amputee, who feels vulnerable and unsure of his sexual future with his former high-school sweetheart; and Fredric March (Al Stephenson) who struggles with alcoholism and his role at the bank, providing small-loan opportunities for other returning vets. Each man is healed and partially re-integrated into society through the redemptive love of a good woman: Myrna Loy (Millie Stephenson), Cathy O'Donnell (Wilma Cameron) and Teresa Wright (Peggy Stephenson). Most iconic image: Derry, working through some hauting memories, sits in an about-to-be-junked B-17. The props are knocked off the engines, suggesting an emasculation relfecting his inner life. Director William Wyler and DP Gregg Toland, shoot the film through a series of long takes and deep focus photography capturing a series of truly lived moments. Powerful Americana.