Synecdoche: Brief Book Reviews
Vince Gotera
Today we explore military life and culture in honor of Veterans Day in the US and Remembrance Day in Canada, originally called Armistice Day to celebrate the end of the Great War—ironic, since the years after 1918 were replete with wars. The poetry books reviewed here—some new, some not-so-new—cover wars in Panama, Việt Nam, and Iraq.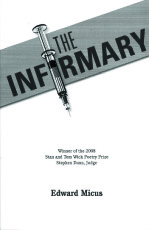 The Infirmary by Edward Micus, Kent State, 2009, x+62p, paper $15.00 • About 20 years after the Vietnam war, I wrote a book about poetry by Vietnam vets. Who'd have thought some 20 years after that there would be a "new" Vietnam-vet poet? Yet here he is: Edward Micus and his debut collection The Infirmary. In my lit-crit study Radical Visions, I grouped poetry by Vietnam vets into three modes: antipoetic, journalistic, and aesthetic. Although Micus has the characteristic brass and toughness of the antipoetic Vietnam-vet poets, he does not deliberately rebel against poetic conventions. While he shares the tell-it-like-it-is attitude of the journalistic Vietnam-vet poets, Micus does not obsess on "getting Vietnam right" in terms of scene and detail. Micus is closer to the Vietnam-vet aestheticist poets who often employed traditional modes—rhyme, meter, inherited forms, elevated diction, e.g.—but even in that regard he is "elegantly eccentric," as Bruce Weigl has called him. In many ways, Micus reminds me of Wilfred Owen, with relentlessly slant rhyming and bravura diction, though he doesn't share Owen's sometime despair. Micus is an expert at defamiliarizing whether at war or at home: six-year-old boys learning to swim who were, strangely, not allowed to wear swimsuits; the wounded soldier sent home, "his brain uncured / still smoking in its skin"—a tangible image for an intangible condition; the seven-year-old in a pinafore at Auschwitz,"this lovely smoke / she makes, never sister, never daughter"; the boy in a rice paddy, "eggshell skullback blown away, / his yolk running." Disturbingly beautiful, beautifully disturbing, but always, always truth with a big T, avoiding the sentimental and the fake. Check out this excellent collection.
Check Points by Michael Casey, Adastra Press, 2011, 80p, paper $18.00 • In 1972, Stanley Kunitz chose Michael Casey's Obscenities to win the Yale Younger Poets Prize, saying  he "begins as a poet with an act of rejection," writing "a kind of anti-poetry that befits a kind of war empty of any kind of glory." Casey's new collection Check Points continues in this antipoetic vein, but the difference is that in Obscenities, as the title hints, his target was war and war-making (American, in particular) whereas in Check Points, Casey lampoons human foibles and frailties. For example, the "anthem" of the "23rd Military Police Company" wasn't "Fortunate Son" but "Proud Mary," a John Fogerty song in any case, and always "there was a fist fight / when someone said Fogerty / in real life / evaded the draft." Casey's humor revolves around cultural clashes and bigotry, bureaucratic absurdity, and deadpan irony. On a list of "special effects" once owned by a dead GI, we see "finger nail clippers" and "string of beads" and a photo of a "girl in white bathing suit / inscribed, "all my love, cathy" . . . written across the whole page: "nothing more follows." Classic, stoic soldier humor. In 1972, I was in Uncle Sam's Army, and Casey's book, its close attention to everyday military lingo, rang true to me. Read this one.
Here, Bullet by Brian Turner, Alice James Books, 2005, xii+74p, paper $14.00 • Brian Turner's Here, Bullet is the first book I've read of poems from the American war in Iraq. And man, are these amazing, lovely poems. Turner uses the trope of landscape to emphasize the surreal feel of Iraq to American combatants, beauty and horror melded: "Owls rest in the vines of wild grapes. / Eucalyptus trees shimmer" vs. "the world glows night vision green" and "ghosts of American soldiers / wander the streets of Balad by night." The body, its landscape of sorts, is made strange: "Staff Sergeant Garza" a mortuary specialist makes an autopsy incision, "bringing light / into the great cavern of the body"; in the wake of a car bomb, "a moustache, alone / on a sidewalk." Turner reminds us of the virtual landscapes of myth and history in this place: "the land of Gilgamesh"; "the Garden of Eden blossomed here / long ago, and this is all that remains, / wind scorpions and dust"; poems are set in August 1004, 1820 (the Turkish-Persian war, probably), 1927. The crucial thing to notice is Turner's compassion, tenderness, empathy. Love and its possibilities are made complicated in this experience but not ruled out: "You carry the pearls of war within you, bombs / swallowed whole and saved for later. / Give them to your children. Give them to your love." This poetry collection is a remarkable testament to the resiliency of human goodwill and dignity.
This Land Is Not My Land by A. D. Winans, Presa Press, 2005, 48p, paper $6.00 • A. D. Winans records in This Land Is Not My Land his 1950s Army service in Panama, exploring in Bukowski-like verse the effects of American imperialism, especially on women: a "young woman stripped / And raped while the / President dines in splendor"; a prostitute with "Labia lobster red / Her eyes those of a prisoner / Serving a life sentence"; two sisters "reading a comic book / and chewing on bubble gum / at a brothel called the / Teenage Club." Honest, scathing, important poems.