299.1 Winter Issue 2014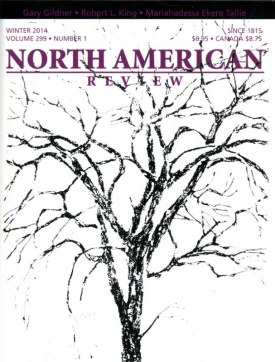 As always, we celebrate Black History Month (February) and Women's History Month (March) in this first issue of the volume year with writing by African American women Allison Joseph and Mariahadessa Ekere Tallie as well as with the book and dvd reviews in our Synecdoche, Crosscuts, and Paeans columns.
Three of the short stories in this issue deal with personal accountability. "Naples" by Allegra Hyde centers on a woman who may have overheard the cries of a rape victim but is incapable of taking action; Philip Walford's "The Memorialists" showcases the need to honor the dead and how such rituals fail us; and Jason Lee Brown's "Goodwill" explores a tangled dysfunctional mix of attraction and exploitation.
FIND US:
North American Review
1200 West 23rd Street
Cedar Falls, IA 50614
CONTACT US:
Phone: 319-273-6455
Email: nar@uni.edu