301.3 Summer Issue 2016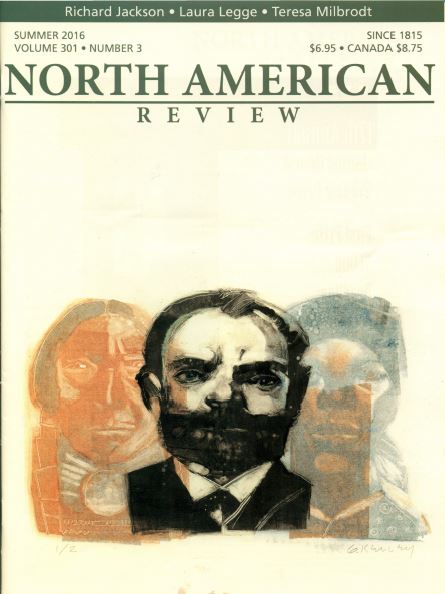 Welcome to the summer fiction issue. Teresa Milbrodt returns with another story about dislocation: a woman struggles with diminished eyesight; her partner suffers indignities as a parking lot attendant. This is her sixth story in NAR. Congratulations! Aimee Parkison makes her first appearance in our pages with a haunting, fractured story about abduction, murder, and loss. "Three Fish" by R. G. Rolland explores the intersection between artistic potential and desire. The stunning art for this piece is from newcomer Matt Manley and captures the story's discord.

This issue also recognizes Hispanic Heritage Month with a nonfiction piece by Christopher Gonzales, a poem by José Angel Araguz, a review of Martín Espada's Vivas to Those Who Have Failed by Edward Carvalho, and artwork by Vlad Alvarez.

With this issue we say goodbye to our eight-year nonfiction editor, Kim Groninga. Under her editorship, several nonfiction pieces landed in Best American Essays. Kim shares some parting thoughts, "What I will cher-ish more about my time at NAR is all the gorgeous pieces of writing I was lucky to read and share. Hundreds of startling ideas, new images, and strings of perfect prose now live in my memory just waiting to be re-called." Kim's keen eye and caring heart will be missed in the office.

We would like to welcome our new nonfiction editor, Brooke Wonders to NAR. Brooke debuted in our pages two years ago with "Skinwalk: A Dissection." She is an accomplished writer of fiction and creative nonfici-ton. Her work has appeared in DIAGRAM, Clarkesworld, Brevity, and The Collagist. We look forward to her contributions to the magazine. Enjoy!
              —GT & SC
Parking Spaces • Teresa Milbrodt
Scenes from a Life of Sport • Robert Shuster
On Flooded Roads • Aimee Parkison
Coyote's Song • Jarrod Barry
Three Fish  • R. G. Rolland
5
5
13
13
13
17
18
18
19
19
23
24
24
28
28
29
29
37
42
For Your Birthday • Eric Paul Shaffer
Faith • Lauren Schmidt
The Four Wishes • Eugene Dubnov / Tr. Anne Stevenson and Eugene Dubnov 
The Catechesis, Redacted • Kimberly Burwick
Franco's Stolen Babies • Kimberly Burwick
Near-Elegy for Brother James • Michele Leavitt
Promise • Richard Jackson
January Studies • Christopher Bolin
My Daughter's Hands • Katy D'Angelo
Looking for What is Unavailable, You May Find What You Will Take Home • Jeff Mock
Stitched • Jose Angel Araguz
White Wolf • Stephen Haven
Reconciliation • Leona Sevick
Sliding House • Dan Rosenberg
Bassinet • Dan Rosenberg
Emily Dickinson's War Poetry • Catherine Stearns
In the Lululemon Window • Catherine Stearns
And Yet, • Charles Harper Webb
The New American Painters • Christopher Brean Murray
From the Editors
Contributors
FIND US:
North American Review
1200 West 23rd Street
Cedar Falls, IA 50614
CONTACT US:
Phone: 319-273-6455
Email: nar@uni.edu