301.4 Fall Issue 2016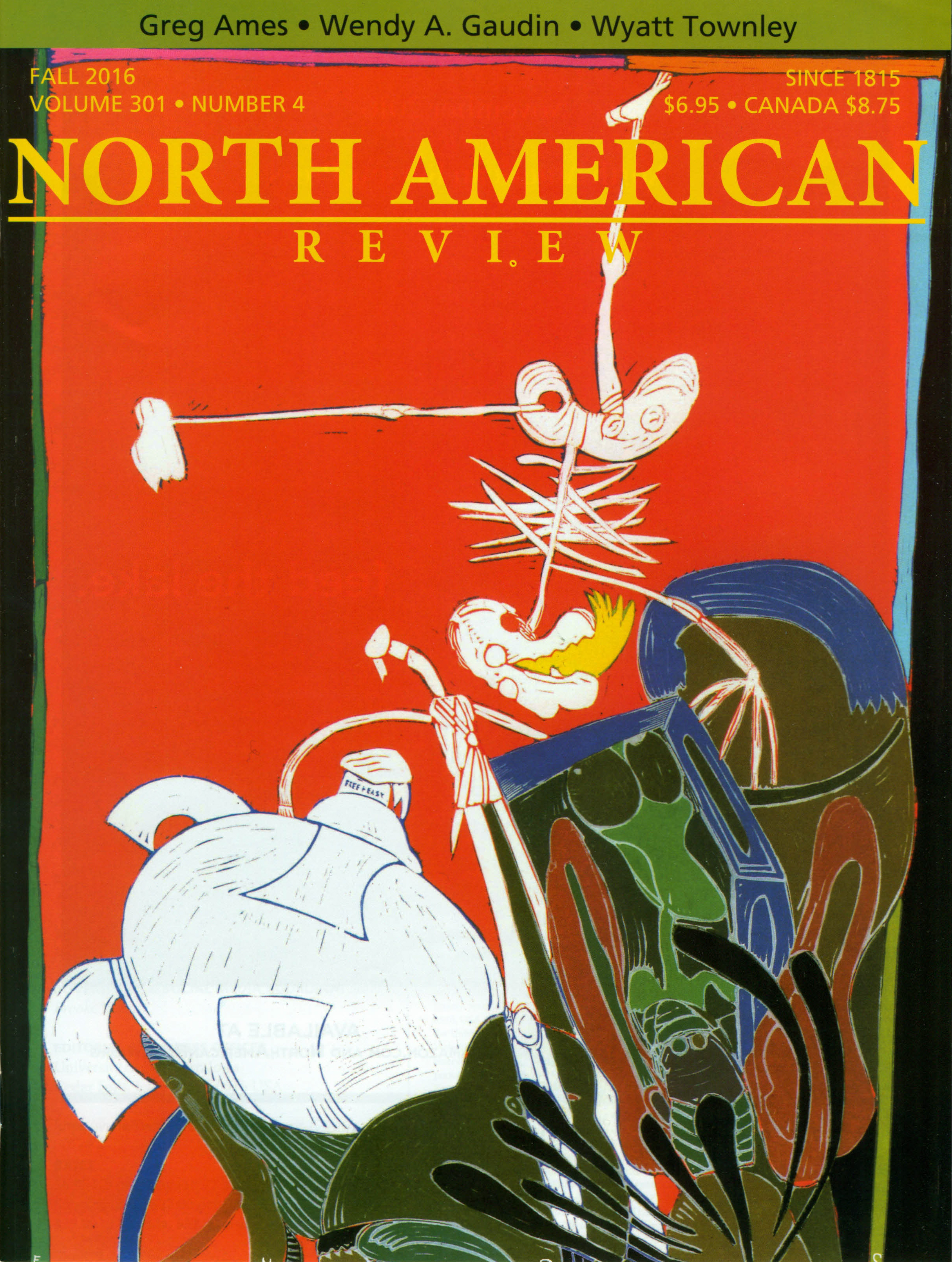 In this issue we feature Wendy Gaudin, winner of our second annual Torch Memorial Prize for Creative Nonfiction. Final judge, Patricia Hampl, on the winning piece: "I was struck by the felicity—forgive that nineteenth-century word—of so much of the writing. Real presence of voice, real thinking on the page. This is what the essay is for—not display but discovery. In the end, I have chosen 'Beauty' as our winner. It had a special passion, and the prose veers into poetry in a way that feels powerful."
The NAR Press has been busy lately, too. On October 1 we launch Manifold Nature: John Burroughs and the North American Review, which collects the nineteen essays the American naturalist, critic, and philosopher John Burroughs published in the pages of the NAR between 1889 and 1920, as well as essays and reviews about his work. In her foreword, Burroughs's great-granddaughter Joan Burroughs explains why his writing remains so vital today. NAR contributor Scott Russell Sanders writes that his essays "are testimony to the vital role the North American Review has played in the intellectual life of America. Long may the magazine live, as a home for bold thinking and fine art." Thanks, Scott!
On November 1 we launch Feed the Lake: Essays on the Craft of Fiction. Contributors include Charles Baxter, Grant Tracey, Robin Black, Joan Silber, Robert Boswell, Debra Spark, Todd James Pierce, and Steven Schwartz. In the foreword, Schwartz illustrates, "The writers in this anthology take an 'intimate' and 'meditative' approach to their topics. The authors write out of a need to understand their own work through the study of others. There's an urgency to know, to realize more than you did yesterday about craft, to discover the writing life anew."
On December 1, we open submissions for Gas Station Pulp, our future crime noir imprint. Read our blog for more information.
The Popcorn Girl • Alex Mattingly
Pieces of Bennet • Shelly Owens
Chapman's Fun World • Travis Landhuis
Be My Max Brod • Greg Ames
Of Eternity • Mộng-Lan
Beauty • Wendy A. Gaudin
To Do The Holding • Katie Prout
This Still Present Moment: an Interview with Gary Snyder • Helena Feder
9
9
12
13
13
14
14
21
22
22
23
23
25
26
26
26
31
32
32
32
33
33
37
37
38
38
39
39
40
48
Shameeka • Susan Aizenberg
Shift Reports: Skilled Care • Susan Aizenberg
Repeton in Winter • Jeannine Hall Gailey
Picaflor • Dahlia Seroussi
Crime Scene Photo of a Hotel Murder in the Times Square Area • Stephen Gibson
Peeling Eggs • Helena Feder
The King Is Dead • Jon Tribble
This Sadness • Ira Sukrungruang
Small Catastrophes • Kathleen Hellen
Bread • John Rybicki
Moss Called Pond • J. R. Toriseva
night stands • T. M. Sandrock
The Warrior's Song • Kevin Finn
Things I Have Never Said • Laura Boss
Ghazal: Staying True • M. Shahid Alam
The End of the Twentieth Century, Remembered • Gerry LaFemina
After Ma Zhiyuan • James Shea
Leslie • James Shea
One Night • James Shea
"Baby Reaching for an Apple," Cassatt • Peter Cooley
The Study • Stuart Greenhouse
"I Sing Myself" • William Heyen
It's So Important to Have that Special Somebody • BJ Love
Casting Line • Bradford Tice
Defending the Fort • Wyatt Townley
The Last Day of Your Life • Susan Johnson
The First Day of Your Death • Susan Johnson
When the Beloved Asks "What Would You Do if I Woke Up One Morning as a Loch Ness Monster?" • Maria Nazos
Burning the Small Dead • Gary Snyder
Contributors
Past Perfect • Grant Tracey
FIND US:
North American Review
1200 West 23rd Street
Cedar Falls, IA 50613
CONTACT US:
Phone: 319-273-6455
Email: nar@uni.edu