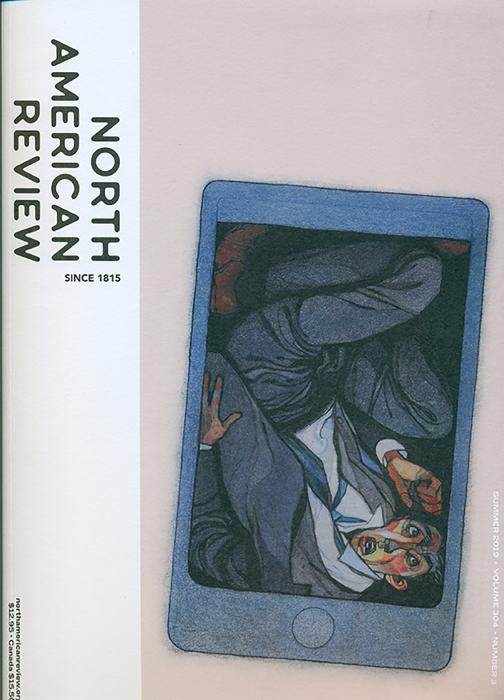 Buy this Issue
Never miss
a thing.
Subscribe
today.
We publish all 
forms of creativity.  
We like stories that start quickly 
and have a strong narrative.
We appreciate when an essay 
moves beyond the personal to 
tell us something new about 
the world.

Subscribe
With this issue the North American Review marks its golden anniversary at the University of Northern Iowa with a new design and format that's as delightful to feel and hold as it is to read and see.
Inside, the issue showcases work by some of the featured writers at our April writing conference: poetry by Martín Espada and nonfiction by Taylor Brorby, Kij Johnson, Joyelle McSweeney, and Sophfronia Scott. We also hope you enjoy Zachary Vickers' "Placebo," winner of our recently revived Kurt Vonnegut Speculative Fiction Prize. And, in a special tearaway insert, you will find a newly unearthed, historical gem of a poem written fifty years ago by Allen Ginsberg.
In this issue
Poetry by 
Joe Bonanni, Richard Brostoff, Robin Rosen Chang, Michael Chitwood, Susan Comninos, Zachary Cotler, Darren C. Demaree, Martín Espada, Gregory Fraser, Rebecca Foust, Albert Garcia, Allen Ginsberg, John Hart, Susan Johnson, George Kalamaras, Athena Kildegaard,  Diane K. Martin, Joyelle McSweeney, David C. Meyer, William Notter, Maggie Queeney, James Ragan, Bino A. Realuyo, Dan Rosenberg, Lis Sanchez, Steven Sanchez, Jeffrey Skinner, Barry Sternlieb, Lauren Swift, Leah Umansky, Brian Phillip Whalen, Jess Williard, Connie Zumpf
Fiction
Placebo • Zachary Tyler Vickers
Asynchronous • Chloe Chun Seim​
Nonfiction
The Semiotics of Beavers • Rae Bryant
The Unknown Country • Sofia Samatar
How It Feels • Kij Johnson
On Patriotism • Taylor Brorby
The Legs on Which I Move • Sophfronia Scott
Artwork by 
Joe Anderson, Makaylah Fazzari, Amy Guidry, Gary Kelley, A. E. Kieren, Matt Manley, Claire Stigliani, B. A. Van Sise