~after The J. Geils Band
RayeAnne walks and RayeAnne talks
in high heels and that negligee
she lifted from Sears before it closed.
She wears a practiced pout and red
glossed lips–knows every angle
the webcam covers in her tiny room.
Her best move is the way she cuts
her eyes to the traffic counter,
doing math in her head as her body
moves in muscle-memorized routines.
Some guy keeps calling her angel
in the comments so she plays along–
adds that homeroom dress with the buttons
down the front, pulls purity into her eyes,
contacts and makeup designed to bring
out the baby blue. RayeAnne
knows all about that Madonna/whore
business; she's studied hard, will do
whatever it takes to bank enough cash
to get out of this hole after graduation.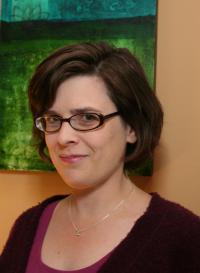 Sandy Longhorn has received the Collins Prize from the Birmingham Poetry Review and the Porter Fund Literary Prize. She is the author of three books of poetry: The Alchemy of My Mortal Form, The Girlhood Book of Prairie Myths, and Blood Almanac. Her poems have appeared in The Baltimore Review, diode, Hayden's Ferry Review, Oxford American, Thrush, and elsewhere. Longhorn teaches in the Arkansas Writer's MFA program at the University of Central Arkansas, where she directs the C.D. Wright Women Writers Conference. 
Photograph by Gürkan Myczko