The Problem
All creeds are oppressive, are they not? Why would we then apply a singular methodology, a creed, to the creative practice? That would make it oppressive.
We have a general problem in literature, and that is the privileging of certain voices, namely straight, white, and male. Now, this has been discussed a lot in the academy as an issue with the publishing world, with exposure in literature courses, what is assigned in those courses, and considerations with the canon.
But we perpetuate this narrowly conceived canon in the workshop, as well, through the discussion of craft and implementation of critique. Our notion of what constitutes good craft is also bound by white supremacy and unconscious bias. We have defined what is good writing by what has historically been celebrated as good writing, and then we call it craft—we think of exalted craft as being a methodology, one that is color-blind, that is gender-neutral, that is without a particular audience in mind. We think of it as universal. We forget that aesthetic is all relative, and established and perceived good craft is borne of whatever is a most prevalent aesthetic: white, male, heteronormative, which becomes historicized by a lack of recognition of its narrow, dominant perspective. Then, in the workshop, we educators perpetuate that in critique. We have students mimic "the greats" because they are deemed excellent craftspeople. Thus, we further the largely straight, white male-informed aesthetic unknowingly, in the innocent conceit of being good craft. I have heard it in workshop, even, the argument that "Craft is craft. Good writing is just good writing," usually by straight white men (but not only). The thing is, it's not that simple.
"While implicit bias is always at play because all humans have bias, inequity can occur simply through homogeneity."—Robin DiAngelo, White Fragility
If the workshop is designed to close the gap between intention and execution, then we must first listen to what the writer intends. Often, workshop dives in blindly to a rough draft of a text, when it hasn't been fully formed, and we begin to make prescriptive comments that are based on age-old "proven models," which of course preserve the largely heteronormative aesthetic bound in a dominant white perspective. And, we may influence the writer in a way that tears them from a more honest and authentic way of writing.
My Strategy
First round of critique: identify what is being discussed, and assign readings that the writer may be in conversation with. Select various types of ways this subject has been approached. For example, if the narrative is a coming-of-age tale, we could assign J.D. Salinger and William Golding, but also Jeanette Winterson, Rivers Solomon, Justin Torres, Kathy Acker, Jacqueline Woodson, Kai Cheng Thom, Akwaeke Emezi. Have all the members of the workshop contribute to this reading list, so as not to privilege a single aesthetic.
Second Round: the writer comes back with a second draft, with intention, and the writer shares this intention. Then, the workshop seeks to provide possibilities, questions, places where the reader feels something, to further develop that intention. Questions and identifications. Nothing more. All inductive, not reductive. We keep the problem solving occurring with the writer. After all, it is their work.
Reflection
Putting our (workshop leaders) effort into protecting rather than expanding our current aesthetic worldview prevents our students' intellectual and emotional growth, whose work then potentially manifests itself into carbon copies of perhaps well-crafted literature, but little that truly contributes, because we have muted our students' voices into a sandpaper polish that is deemed palpable to a larger—straight and white—audience. We as educators need to stay aware of this danger. We can never get lazy in the face of the workshop, and always remember that it perpetuates unconscious bias as much as, if not more, than any institutional classroom.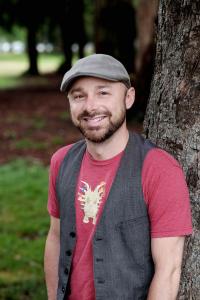 Miah Jeffra is author of the essay collection The First Church of What's Happening (Nomadic Press 2017) and The Fabulous Ekphrastic Fantastic! (forthcoming Sibling Rivalry Press 2019). Awards include the New Millennium Prize for fiction, the Sidney Lanier Fiction Prize, The Atticus Review Creative Nonfiction Prize, the Alice Judson Hayes Fellowship, a Lambda Literary Fellowship, and finalist for the Prairie Schooner and St. Lawrence Book Prizes. Residencies include Ragdale and The Hub City Writers Project. Recent publications include Fourteen Hills Review, The Atticus Review, Wasafiri, The Nervous Breakdown and Fifth Wednesday. Miah is founding editor of queer literary collaborative, Foglifter Press. Miah Jeffra contributed to North American Review, Volume, 304.2.
Illustration by: Mary Ann Smith. Mary Ann Smith came to New York City to attend Parsons School of Design and made it her home. After earning a BFA degree she began illustrating and designing professionally. She has illustrated for magazines, newspapers, the web and book publishers. Her clients include The New York Times, The Washington Post, The Chicago Tribune, The International Herald Tribune, GQ, BusinessWeek, Security Management Magazine, Bethesda and Arlington Magazines, Penguin Books and Simon & Schuster.
She also designs book covers for major and independent publishers. This includes trade, hardcover, print, e-books, fiction and non-fiction titles. Her clients include Penguin Random House, Simon & Schuster, Hachette Book Group, St Martin's Press, Harlequin, Columbia University Press, Ohio State University Press, Fairwinds Press and Henry Holt.