I began composing poems about friendship long before Elena Ferrante's novels found their way into my hands. For me, poems are born out of complicated memories that steep into the psyche and take on meanings that aren't easily acknowledged and understood. Writing "Doli Means Goodbye" involved saying goodbye to many earlier drafts and gaining a new connection between content and form.
Doli is part of a traditional Punjabi wedding ceremony in which the bride, now married, says goodbye to her family as she leaves to begin her new life. Formally acknowledging loss at a wedding was something I had never witnessed until I participated in the nuptials of a very close friend in my mid-twenties. I had never been to a Hindu wedding. The line "There is no synonym for bride in any language" represents a simultaneous moment of confusion and epiphany. It's my favorite line. I originally conceived of the poem as three stanzas, but never felt satisfied until I lost two stanzas and cut the poem back to its essentials. Ironically, another friend who is a poet helped me to recast the poem as a seven-line work that mirrors the Hindu wedding ritual in which the couples walks seven times around the fire. So the loss of words is now a gain. 
Below is another poem from my completed book manuscript A Member of Her Family, which also uses imagery of motion to depict the demands of friendship. Flexibility, flux: these are often the unspoken undercurrents in human relationships, enabling them to flounder, but also to flourish.
Dancing Around Her
Pride in my new steps. I think it comes from her. 
Her altar becomes a phone booth. Becomes my jealousy.   
My feet burn without her incense. Twist secular.
Walk away but circle back. 
Commitment. Dance harder. Bhangra Forever.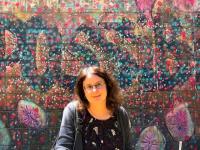 Nina Bannett is the author of These Acts of Water (2015) and a chapbook, Lithium Witness (2011). Her poetry has been featured in numerous journals including North American Review, Bellevue Literary Review, CALYX, LUMINA, The Healing Muse, and WomenArts Quarterly. Nina holds a PhD in American Literature and is Professor of English at New York City College of Technology, City University of New York. She is currently the poetry editor of 2 Bridges Review. She can be found online at www.ninabannett.com.