Writing towards the Light: "The Cop, the Hooker and the Ridealong" Flashback Friday Featuring Julie Brickman From Issue 294. 5
Writing towards the Light: "The Cop, the Hooker and the Ridealong" Flashback Friday Featuring Julie Brickman From Issue 294. 5
I wrote this story when my husband was dying of ALS (Lou Gehrig's Diease). Until then, I'd thought of myself as a novelist, but I no longer had the mental bandwidth to immerse myself in long work. So I turned to the short story, a form I immediately fell in love with for its vast array of possibilities. "The Cop, the Hooker & the Ridealong" was the first story I wrote close to home, the first that tapped my own life for material.
It was a short time after my husband's diagnosis. Already the disease had taken over our lives. It was un-conveyable, the progression: how there was no adjusting, because each symptom necessitated change. For walking alone, we went from bannisters on every wall, to canes, to leg braces, to walkers, to a manual wheelchair, to power wheelchairs, to hoists to get him in and out of them, to a rampvan to drive them around. He was to live for seven years after the diagnosis, until he could no longer move a voluntary muscle, except for the faint flutter of an eyelid. How could I capture any of this?
Writing was the only way. But the material was too depressing; even I didn't want to read about it. That's when I decided to weave it with other material. And one morning, I looked out the window and a police car was sitting out front.
And there it was, the opening: "At 7 a.m. Sunday morning, a police cruiser settles in front of our house."
"The Cop, the Hooker and the Ridealong" has been reprinted in Julie Brickman's story collection, Two Deserts, released by Hopewell in 2013.
---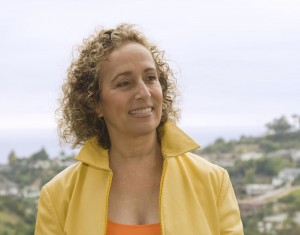 Julie Brickman is author of the story collection, Two Deserts (Hopewell) and the novel, What Birds Can Only Whisper (Turnstone). Her fiction has appeared in the North American Review, the Louisville Review, the Barcelona Review and other journals, her nonfiction in Canadian Dimension, Kinesis, and a range of psychology, journals, and thirty book reviews in the San Diego Union-Tribune. Julie teaches fiction on the faculty of the low-residency Master of Fine Arts in Writing Program at Spalding University in Louisville, Kentucky. Her honors include grants from the Canada Council, a Pushcart Prize nomination, and a writer-in-residence position at the Berton House in the gold rush town of Dawson City, Yukon. She has been a guest editor in fiction and creative nonfiction for the Louisville Review and anthologized in the collections High Horse and States of Rage. Her community work includes running a writers group with her mother for residents of a senior care facility. A New Jersey native, she lives in Laguna Beach, California, where she continues to write in both long and short forms.
Artist:

Joseph Daniel Fiedler was born and raised in Western Pennsylvania. His work has appeared in numerous publications and exhibitions. He has illustrated children's books, received a Silver Medal from the Society of Illustrators, and has also been recognized by Graphis, Print, Communication Arts, American Illustration, the Society of Publication Designers, The Spectrum International Annual of Fantastic Art, Taschen Publishing and the Broadcasting Design Association, among others. In addition to having a career in Illustration, Joseph has exhibited his paintings both in this country as well as in Japan. Joseph has taught illustration both at Carnegie Mellon University and at The College for Creative Studies and has lived in Pennsylvania, Tokyo, New Mexico, Michigan and California. He is represented by Purple Rain Illustrators.
"Untitled"
FIND US:
North American Review
1200 West 23rd Street
Cedar Falls, IA 50613
CONTACT US:
Phone: 319-273-6455
Email: nar@uni.edu