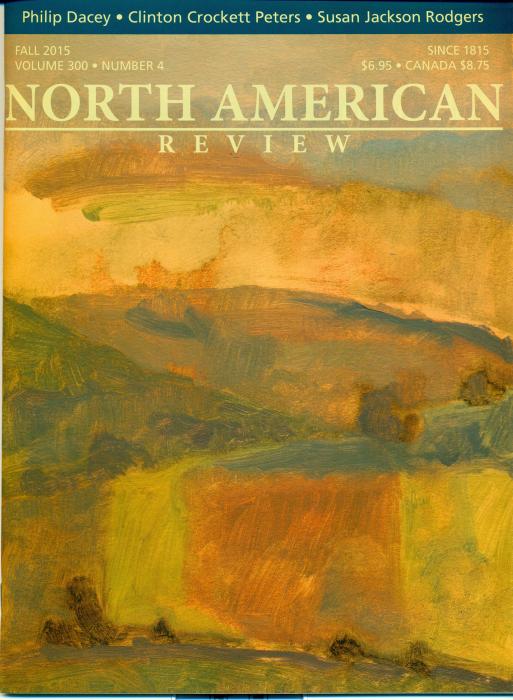 Buy this Issue
Never miss
a thing.
Subscribe
today.
We publish all 
forms of creativity.  
We like stories that start quickly 
and have a strong narrative.
We appreciate when an essay 
moves beyond the personal to 
tell us something new about 
the world.

Subscribe
Our inaugural Torch Memorial Prize for Creative Nonfiction was a tremendous success, attracting nearly 200 submissions. Final judge Eula Biss called Clinton Crockett Peter's winning essay about Australia, "Rabbits and Convicts," very strong, very readable," giving her moments of pause throughout. We're excited that next year's judge will be the incomparable Patricia Hampl, author of A Romantic Introduction and The Florist's Daughter, who was one of the keynotes at our summer bicentennial conference.
Nearly five hundred writers, artists, and scholars from around the country joined in the conference festivities. On the heels of the conference and the publication of The Great Sympathetic: Walt Whitman and the North American Review, the newly revived NAR Press also now plans to publish two books every year. Keep an eye out for in 2016 for a book on the craft of fiction as well as a collection of essays by and about the naturalist John Burroughs. WE promsie not to wait a hundred more years before throwing another grand literary party!
This issue's peotry featrues a diverse and provocative suite of peoms selected by guest editor Heid E. Erdrich to honor Native American Heritage Month. Fiction includes Susan Jackson Rodgers's "Keep Me in the Dark," about a woman's brush with "transgression"; Todd James Pierece's "Ink & Paint," which explores a woman's desire for elbow room in the male-dominated field of Disney animation; and Joseph Scapetello's deconstruction of the entire masculine mythos of the Western in "Horseman Cowboy."
Enjoy the issue!
             -GT & JDS
ART
Cover   Umbria en plein aire [oil on paper] • Jim Burke
11   Untitled [graphic and digital] • Brianna Hertzog
17   Untitled [pen & ink and digital] • Anthony Ventura
21   Untitled [ink and digtal] • Jared Rogness
25   Untitled [digital paint] • Scott Anderson
FICTION
11   Keep Me in the Dark • Susan Jackson Rodgers
17   Horseman Cowboy • Joseph Scapellato
21   Ink and Paint: Walt Disney Studios, 1948-1954 • Todd James Pierce
25   Daily Double • Michael J Rosenbaum
NONFICTION
3   Rabbits and Convicts • Clinton Crockett Peters
34   On Reading • Anne P. Beatty
POETRY
6   Ranches with Wolves • Tiffany Midge
7   The Mythology Of My Birth • b: william bearhart
8   Family Ties • Trevino L. Brings Plenty
8   One Way • Eric Gansworth
9   Let Me Explain • Mark Turcotte
9   Ballast • Leanne Howe
10   A Lot of Poems Bathing in A Stream • Alexandria Peary
10   Experiments In Grief • Rick Bursky
16   Science Honor Society • Lawrence Bridges
16   Come Here Little Broom • Susan Sonde
20   Naming the Field • Doug Ramspeck
24   Hallucinate the House, Hallucinate the Woods • Anne Barngrover
32   The Net • Warren Slesinger
33   Mother Talks Back to the Monster • Carrie Shipers
40   First Memory • Phillip Dacey
40   Watch • David Moolten
         Maria Callas's Tapeworm • Frank Paino
         Rio de Janeiro is poised to become • Chloe Veylit
REVIEWS
41   The US in the UK • Robert L. King
44   That-Once Wild Thing • Maggie Trapp
45   Crosscuts: Brief DVD Reviews • Grant Tracey
46   Synecdoche: Brief Book Reviews • Rachel Morgan
48   Why We Should Tilt at Windmills [Past Perfect] • Lisa Higgs
MISCELLANY
2   From the Editors • NAR Staffers Out in the World
47   Contributors