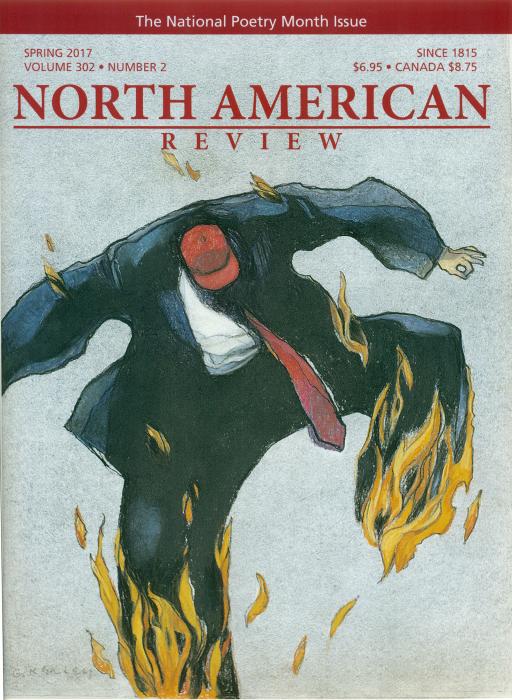 Buy this Issue
Never miss
a thing.
Subscribe
today.
We publish all 
forms of creativity.  
We like stories that start quickly 
and have a strong narrative.
We appreciate when an essay 
moves beyond the personal to 
tell us something new about 
the world.

Subscribe
As a quarterly publication, the North American Review can rarely be topical. Back in October 2015, when we began planning this issue's section on Arab American Poetry, guest edited by the editors of Mizna, we could have predicted neither the election of our current president nor his executive order commonly referred to as the Muslim ban. The poems presented here by Lana Barkawi and Moheb Soliman may not be explicitly political, but they resonate more loudly and vitally than ever given the backlash of Islamophobic isolationism in the US. The vocal response from the millions of Americans in solidarity with immigrants and in resistance to a policy based on hate and fear—from demonstrations at airports to rallies in towns and cities across the country—has been somewhat heartening in a time when hearts have suffered. For years the NAR has stood in a similar spirit for diversity in art and literature. The current political climate only bolsters our resolve and confirms our conviction that as citizens, as people, as artists, we are empowered when we listen to and promote the many different voices ringing soundly around and among us.
              —GT & JDS
ART
Cover   Pants on Fire [mixed media] • Gary Kelley
16   A Great Fire [ink] • Eric Piatkowski
27   Shell Game [ink and brush, Micron pen and digital coloring] • Jared Rogness
FICTION
16   A Fire to Make Things Right • Annie Shepherd 
27   The Empty Shell: Heart Mountain, 1942 • Sharon Hashimoto 
NONFICTION
34   Thistle • Cynthia Brandon-Slocum
POETRY
3   Black Boy • Jordan Franklin
4   Visitation on a Red Line Train • James Crews 
5   Back in Captivity • Christa Romanosky
6   Cunnilingus • Erika Brumett
7   My Love Is to Me as Water in the Desert • Sheila Sanderson
8   Strike • Leonard Kress
9   When God Wore Seersucker • CR Callahan
9   Instead • Nick Bertelson 
10   Geographic Tongue • Jennifer Militello
10  I, Beast • Susanna Lang
11   Time Was • John Hodgen
12   There were Two Unanswered Voicemails from You • Carlos Andrés Gómez
12   Ways to Kill a Bird • Vicky Santiesteban
13   Reincarnation • Jenny Burkholder
13   Ponytail Ode • Rochelle Hurt
14   Is There Anything on Your Person that can be Used as a Weapon? • Mark Wagenaar
15   Infestation • Meghann Plunkett
26   Poland, 1916 • Ryan Teitman
26   Sonnet with My Father as Richard Burton • Ryan Teitman 
30   New Age Lament • Sparrow
30   Not the Thing but a Fossil of the Thing • Rebecca Foust
31   Blossom • Alex Simand
31   Moving Men • John Warner Smith 
32   nails and wings • Betsy Johnson-Miller 
32   The System Works • Gary Dop
33   A Waiting Room in Kuwait • Danielle Sellers
33   Christmas in Knoxville • Luke Marinacw 
38   Through the Rain  • Ciara Shuttleworth 
38   Gift Tower • Martha Silano
39   I'm like a story someone told • Peter Grandbois
39   Bones • Kelly Dolejsi
39   Line • Jess Williard
40   In James Blake Sr.'s House at the Corner of Broad Street and Marshall • Geoffrey Babbitt
40   Prometheus and Pandora • Timothy Dailey-Valdés
41   Soldier-Ants • Philip Dacey
41   I've started naming the landscape: sweet • Lauren Camp
ARAB AMERICAN POETRY • GUEST EDITED BY MIZNA
42   Introduction to Arab American Poetry • Lana Barkawi & Moheb Soliman
43   Self-Portrait as Sister • Hala Alyan
44   The Socratic Method • Hala Alyan
44   Stone Machine • Glenn Shaheen
45   Crystal Den • Glenn Shaheen
46   Patton • Glenn Shaheen
47   The Night the Dog Died • Hayan Charara
47   With Time You Will Understand • Hayan Charara
47   The Other Woman • Hayan Charara
47   The Domestic Life • Hayan Charara
REVIEWS
48   Crosscuts: Brief DVD Reviews • Grant Tracey
49   Synecdoche: Brief Book Reviews • Rachel Morgan
52   Vietnam Redux? [Past Perfect] • Perry Glasser
MISCELLANY
2   From the Editors
50   Contributors