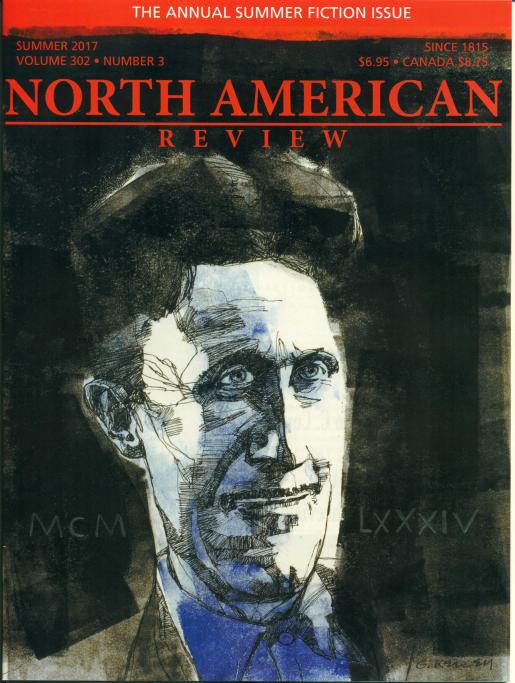 Buy this Issue
Never miss
a thing.
Subscribe
today.
We publish all 
forms of creativity.  
We like stories that start quickly 
and have a strong narrative.
We appreciate when an essay 
moves beyond the personal to 
tell us something new about 
the world.

Subscribe
With this issue we sadly announce that Robert L. King, our drama critic, is stepping down after nearly twenty-five years with us. Bob, who joined the NAR in 1992, covered the classic, the new, and the transformative with insight and empathy. His columns often inspired us NAR staffers to see, read, and borrow from the plays and the playwriting techniques that he commented on. Thanks, Bob! We'll miss you!
Among this issue's short stories, two highlight the disconnects within everyday small-town life: Richard K. Weems's "Murder in the Reagan Era," a twisted, literary variation of a Snapped episode, looks from the outside at the poisoning of a postal employee; and Keith Lesmeister's "Rock Springs, Iowa," a cover version of Richard Ford's classic, shifts the white, middle-aged perspective to that of an African-American woman. Under Lesmeister's delicate prose simmers a racial divide. Finally, Christopher Mohar's boogeyman story challenges normalcy with an absurdist comical telling of love, alienation, and identity.
In her Synecdoche column, Poetry Editor Rachel Morgan calls writer andactivist Taylor Brorby's poetry collection Crude (Ice Cube Press) "both ode and elegy" and "an accomplished treatise from an emerging writer." Brorby is an important, up-and-coming literary voice, and the NAR is paying attention. In NAR Online, you can read a review of his other books, Fracture: Essays, Poems, and Stories on Fracking in America and Coming Alive: Action & Civil Disobedience, as well as a Q&A interview with him on our blog. And stay tuned for his essay "Confluence," which will be featured in an upcoming issue.
Maria Mazziotti Gillan's poignant poem "Poetry Festival at the Hoboken Museum" will entice you to come to New Jersey on June 3 to attend the conference she has organized: Celebrating the Poetic Legacy of Whitman, Williams, and Ginsberg, to be held at the Poetry Center at Passaic County Community College. Come hear Editor J. D. Schraffenberger, along with frequent contributor Lauren Marie Schmidt (whose remarkable new book Filthy Labors is reviewed in these pages) and Contributing Editor Martín Espada, as they talk about the NAR Press's The Great Sympathetic: Walt Whitman and the North American Review.
And we're happy to tell you that we've read many fine submissions to our Gas Station Pulp imprint and will announce the winning novel in the pages of our Fall issue.
              —GT & JDS
ART
Cover   George Orwell [ink on paper] • Gary Kelley
5   X&O [digital] • Anthony Tremmaglia
14   Cleaning Queen [digital] • Brianne Burnell
19   A Murder During the Reagan Era [digital collage] • Kali Gregan
25   Rock Springs, Iowa [digital watercolor] • Melanie Lambrick
34   Untitled [ink and digital] • Catherine Byun
FICTION
5   The Things We Fear Swallow Us from the Shadows of the Things We Love • Christopher Mohar
14   The Birthday Gift • LP Sutton
19   A Murder During the Reagan Era • Richard K. Weems
25   Rock Springs, Iowa • Keith Lesmeister
34   Frida Kahlo Sex Dreams • Theodore Carter
NONFICTION
3   Cold, Dark, Deep, and Absolutely Clear • Annah Browning
POETRY
13   Poetry Festival at the Hoboken Museum • Maria Mazziotti Gillan
13   He Said Yes • Catherine Pritchard Childress
24   Fine Weather • Zhu Zhu / Tr. Dong Li
30   Mayfly Wings • Thomas Reiter
31   In My Ninth Year, Troubler Gives Notice • Elijah Burrell
31   In My Fifteenth Year, Troubler Returns Before Dad Leaves Mom • Elijah Burrell
32   Little Intricacies • Susan Hutton
32   "dream after the month of tears" • Noor Al-Samarrai
33   Zeitgeist • Austin Segrest
33   The Oak-Whale • Brandon Krieg
41   When You Think of Hannibal, MO • M. Scott Douglass
41   Become / Wave • Meridian Johnson
42   Wilfred Owen Said • Susan Firer
44   Green Straw • Linda Russo
44   When the Jets Came Home • Victoria Kelly
REVIEWS
45   Synecdoche: Brief Book Reviews • Rachel Morgan
46   An Ecstatic Cartography of the Human Heart • Sean Thomas Dougherty
48   The President, Press Secretary, and the White House Press Corps [Past Perfect] • Matt Schaefer
MISCELLANY
2   From the Editors
47   Contributors