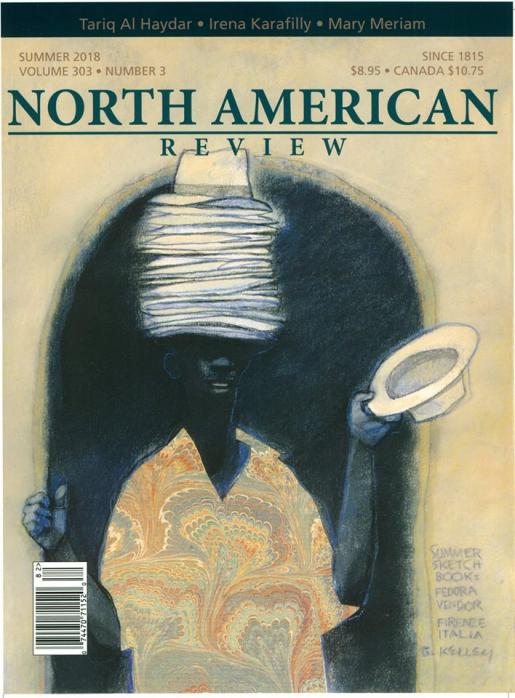 Buy this Issue
Never miss
a thing.
Subscribe
today.
We publish all 
forms of creativity.  
We like stories that start quickly 
and have a strong narrative.
We appreciate when an essay 
moves beyond the personal to 
tell us something new about 
the world.

Subscribe
Welcome to the summer fiction issue. We have a wonderful assortment of narrative-driven stories for you. Irena Karafilly, in "April Fools' Day" serves up an offbeat yarn about love, art, and documented reality; Mike Atonsia's "Longmeadow" also centers around the intersection of life and art with an emphasis on juxtaposing two relationships, two different time slips; Ross Wilcox's "Puddin' Suitcase," a quirky love story about the burial of a dog, centers on coming to terms with identity; as does Kirsten Sundberg Lunstrum's magical-realist piece with its surprising exploration of being and nothingness. D.M. Spitzer's poem, "of seeds & stars" is an excerpt from a longer collection and is a delightful mix of text and white space. There's also new poetry by Roderick Townley and Mary Meriam. "Synecdoche: Brief Books Reviews" covers two collections by debut authors, Joshua Mensch and Cait Weiss Orcutt. Mensch's collection, Because: A Lyric Memoir is out with W.W. Norton and in one long sentence, reveals a decade long abuse. It's a must read. This issue's "Past Perfect" responds to current press and politics and is by a former NAR staffer, Hannah Carr-Murphy.
This summer also marks the debut publication of NAR's imprint series, Gas Station Pulp. Mary Frisbee's Black Fin is a wonderful neo-noir mix of past and present, a feminist spin on the works of James M. Cain and Dashiell Hammett. Here's a teaser by Mary Frisbee: "In a dark Pacific sea cave, a young woman awaiting death discovers she is not alone. Murderers have caused the bodies of a dead woman and a drugged five-year-old girl to float in on high tide. As the relentless rising waves trap them in the cave, Olive must draw on her grit, native knowledge, and ingenuity to save the child's life while evading a greedy, malevolent pair intent on silencing them in order to possess a priceless treasure." It is available for purchase on our website or Amazon.
In the fall issue, look for the Torch Prize winner, judged by Lidia Yuknavitch. The fall also marks our 19th annual James Hearst Poetry Prize, judged by Dana Levin. Submissions for the James Hearst Poetry Prize are open on Submittable April 31–October 31, 2018. Also, check out our latest online issue, where we're pubishing new works, a book review by Sean Thomas Dougherty of A Camouflage of Specimens and Garemts by NAR contributor Jennifer Militello. There's also new work by poets Greg Nicholl and James Scruton.
At the NAR office, we're excitedly working on a celebration to mark our 50th year at the University of Northern Iowa, which will also coincide with a redesign of the magazine. Save the dates of April 19-21, 2019, for a conference at UNI with keynote, Terry Tempest Williams, and a talk from new contributing editor, Taylor Brorby. See Submittable for a call for work that responds to Williams's work, The Open Space for Democracy for our Spring 2018 issue. We hope to see you at the conference. –GT & RM
ART
Cover   Summer Sketch Book =Fedora Vendor Firenze Italia [mixed media] • Gary Kelley
6   April Fools [graphite, watercolor, gouache] • Justin Perkins
11   Untitled [digital collage and drawing] • Dushan Milic 
15   Courtney [digital] • Ethan Bifano
21   Come Again Train [pastel, charcoal, and carbon, finished digitally] • D.G. Smith
27   Vanishing Girl [pen & ink with digital] • Eric Piatkowski
34   Call of the Boardwalk Hunk [digital collage] • Kali Gregan
39   No Returns [acrylic ink and Photoshop] • Kurt McRobert
FICTION
6   April Fools' Day • Irena Karafilly
11   Puddin' Suitcase • Ross Wilcox
15   Longmeadow • Mike Antosia
21   Letters to Marjorie • John Rybicki
27   Where Have the Vanishing Girls Gone? • Kirsten Sundberg Lunstrum
34   Call of the Boardwalk Hunk • Cecily Berberat
39   No Returns • Connie Draving Malko​
NONFICTION
3   Ode to a Prince • Jonina Wood
45   Ton-Ta-Ton • Tariq Al Haydar
POETRY
20   A Face at the Window • Roderick Townley
25   of seeds & stars (selections from genealogy of the first person, book b: genitive, part one: abraam) • D. M. Spitzer
26   Emmanuel Gets Small • Chris Haven
26   Needlepoint Point • Mary Meriam
44   Shah's Mosque • Kayvan Tahmasebian / Tr. Rebecca Ruth Gould and Kayvan Tahmasebian
44   Two Seogovias • Lynne Potts
REVIEWS
49   Synecdoche: Brief Book Reviews • Rachel Morgan
50   Crosscuts: Brief DVD Reviews • Grant Tracey
52   'Freedom' of the Press?: 100 Years of Questioning [Past Perfect] • Hannah Carr-Murphy
MISCELLANY
2   From the Editors
51   Contributors