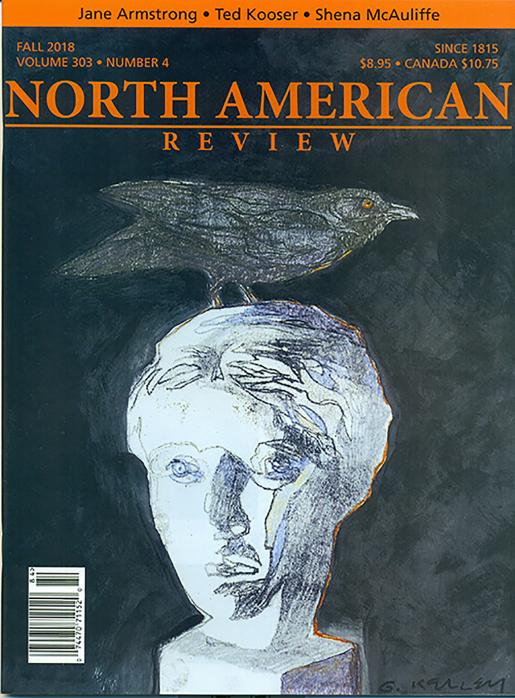 Buy this Issue
Never miss
a thing.
Subscribe
today.
We publish all 
forms of creativity.  
We like stories that start quickly 
and have a strong narrative.
We appreciate when an essay 
moves beyond the personal to 
tell us something new about 
the world.

Subscribe
Take a good long look at this issue of the North American Review because by the time our summer issue drops, you'll be holding a newly redesigned magazine in your hands. We're transforming, evolving, taking on a new form with a new guiding vision. Sarah Pauls, the Marketing Manager in the College of Humanities, Arts & Sciences here at the University of Northern Iowa, has herded us literary cats and helped us through this whole process of reimagination. 
In the meantime, you've probably heard us touting our upcoming spring issue, which will present some remarkable pieces by José Angel Araguz, Maria Nazos, and Jonathan Wei written in response to NAR Contributing Editor Terry Tempest Williams's provocative collection of essays from 2004, The Open Space of Democracy. Terry will deliver the keynote at our writing conference April 19-21, 2019 celebrating the NAR's 50 years at UNI. Our other featured writers include Molly Antopol, Taylor Brorby, Martín Espada, Adrianne Finlay, Kij Johnson, Joyelle McSweeney, Sophfronia Scott, and Joseph Scapellato. The conference is free and open to the public so submit a proposal to present your work on our Submittable page. 
We're open for submissions for the 2019 Hearst Prize, judged this year by Dana Levin, and for the first time in more than a decade, we're reading for the Kurt Vonnegut Fiction Prize, which intends to recognize the finest speculative fiction, judged by Karen Joy Fowler. We're thrilled to welcome Dana and Karen into the NAR family.
Another momentous occasion: in this issue you'll read the final Past Perfect column, which is fittingly dedicated to the memory of longtime NAR editor Robley Wilson, who not only steered the NAR ship for more than thirty years but published his own stellar writing to great critical acclaim. He'll be missed.
ART
Cover   Aldous Huxley: Brave New World [mixed media] • Gary Kelley
17   Swims [ink, digital] • Catherine Byun
25   ​Growing [digital] • Brianne Burnell
37   Spears and sneers [pen and ink, Photoshop] • Jared Rogness
FICTION
17   Origins • Mel King
25   Listening to Apples • Warren Jones
37   Elephant in the Room • Clay Whisler
NONFICTION
3   Eight Hours, with Cow • K. S. Phillips
7   Splendor • Refael Paul Arenson
42   Confluence • Taylor Brorby
POETRY
11   The Asethetics of Dairy Farming • Ellie Tipton
11   The Landscape of Separation • Kendra Tanacea
12  ​ Ronald Reagan • Elisabeth Farrell
12   The Cloth Room • G. C. Waldrep
13 ​  The Conversions of the Body • Al Maginnes
14   I Love My Wife But the Problem Is • Gregory Fraser
16   A Guide to Wild Flowers • Laura McCullough
22   What Is The Body • Hannah Dow
23   For When You Are Down About Various Ignominious Fates • Paul Guest
24   Ode to Superstition • Jennifer Militello
24   In the Rainshadow of Whom • Jennifer Militello
32   ​Meditation • Trenton Pollard
33   On Faith: "What If It's Broken?" • Michael Hurley
34   Leaves of Grass Lipogram • Michael Kriesel
35 ​  The Day Her Speech Was Slurred • Cathryn Cofell
35   ​Sunlight • Emily Vogel
36   Gone Of • Emily Vogel 
40   The Hunger Artist • Carolina Hotchandani
41   ​Around Phelps Lake • David Salner 
41   Hapa Song • Michael Prior
       Listening to Words • Jeff Hardin
REVIEWS
43   Review of The Commandant of Lubizec • Stephen J. Gaies
45   ​Synecdoche: Brief Book Reviews • Rachel Morgan
46   Crosscuts: Brief DVD Reviews • Grant Tracey
48   Making Life Matter [Past Perfect] • Chris Johnson
MISCELLANY
2   From the Editors 
47   Contributors