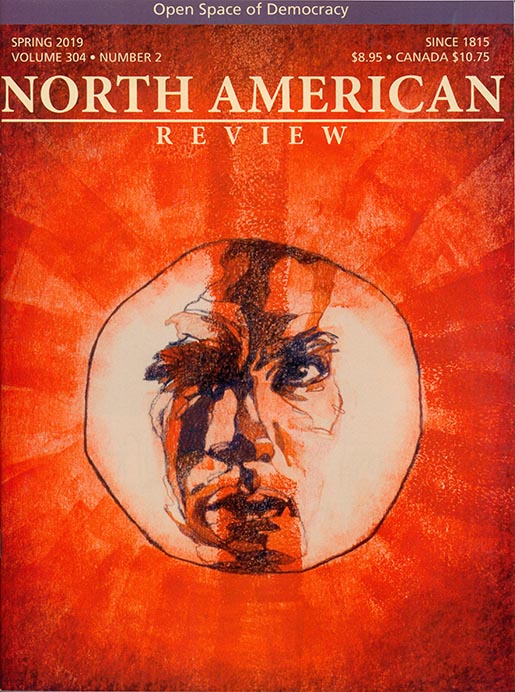 Buy this Issue
Never miss
a thing.
Subscribe
today.
We publish all 
forms of creativity.  
We like stories that start quickly 
and have a strong narrative.
We appreciate when an essay 
moves beyond the personal to 
tell us something new about 
the world.

Subscribe
FROM THE EDITORS
My first real joke. I was nine years old. My favorite baseball player, Pete Rose, was returning to my favorite team, the Cincinnati Reds, as player-manager. My dad asked me how I thought he'd do as both a player and a manager. I deadpanned: "I think he'll manage." The North American Review welcomes back one of its own former all-stars, Brian Pals, who held down the production coordinator position a few years back as a graduate student. How do I think he'll do as our new Managing Editor? I think he'll do more than just manage. His talents have already helped usher in the winter issue, and his vision and leadership have given shape to this one.
We're featuring a section of powerful writing inspired by or responding to NAR Contributing Editor Terry Tempest Williams's 2003 collection of essays The Open Space of Democracy. These pieces renew the challenge of engagement she put before us so vitally sixteen years ago. The work continues.
Our upcoming writing conference (April 19-21)- will also feature Terry Tempest Williams prominently. Not only is she leading off the conference as our keynote speaker, but we'll also be exhibiting fifty original posters responding to The Open Space of Democracy. Come meet our lineup of other featured writers, too: Molly Antopol, Taylor Brorby, Martin Espada, Adrianne Finlay, Kij Johnson, Joyelle McSweeney, Joseph Scapellato, and Sophfronia Scott. The event is free and open to the public, so mark your calendar and make plans to be here. We'll save a space for you.
It's our pleasure, as always, to celebrate National Poetry Month by publishing the finalists for the James Hearst Poetry Prize. Dana Levin selected Alan Elyshevitz's strange, beautiful, heart-wrenching "Bread" as the winner. We're also excited to announce that Karen Joy Fowler has selected the winner of the Kurt Vonnegut Prize. Zachary Vickers' wildly inventive and surprising story "Placebo" will be published in our summer issue. Congratulations to both winners, and thanks to Dana and Karen for their work!
With this issue, we also bid fond farewell to the current format. It has served us well lo these fifteen years. The summer issue, which we'll unveil at our conference in April, will present a newly discovered, neverbefore-published poem by Allen Ginsberg, "Vroom Over White Wisconsin," which has been hidden away for fifty years. The summer issue will also initiate a new look and feel to the NAR, new dimensions, new layout, new font, new glyphs, new design, and a newly re-engaged mission to be an open space of democracy in the literary world. The work continues.
—JDS