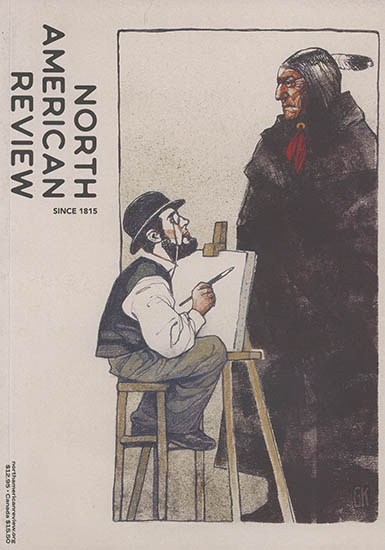 Buy this Issue
Never miss
a thing.
Subscribe
today.
We publish all 
forms of creativity.  
We like stories that start quickly 
and have a strong narrative.
We appreciate when an essay 
moves beyond the personal to 
tell us something new about 
the world.

Subscribe
FROM THE EDITORS
NAR marked its fiftieth year at the University of Northern Iowa by hosting a writing conference in April, attended by more than 300 writers, artists, and teachers from all over the country. In her keynote speech, contributing editor Terry Tempest Williams shared with a packed auditorium that her very first published story, "The Bowl," appeared in our pages. To celebrate Terry and her work, we're renaming our nonfiction prize after her. For the past five years, the Torch Memorial Prize in Creative Nonfiction has honored the memory of the award-winning writer and teacher Rafael Torch, who died in December, 2011, at the age of 36, after a courageous four-year attempt to overcome sarcoma, a rare form of cancer. Our friends over at Crab Orchard Review conduct their own Rafael Torch Literary Nonfiction Award, so to avoid confusion, we decided to make this change. Read his essay "The Malignancy of Beginnings," first published in our November-December 2008 issue, to understand what a vivid, lyrical storyteller Rafael was.
The final winner of the Torch Memorial Prize, Gayla Marty's essay "Now You're Cooking with Gas," appears in these pages. Contest judge (and NAR contributing editor) Michael A. Martone had this to say about the piece: "This simmering meditative essay is like the appliance upon which it stews. So much depends upon this remarkable animation of the thingness of a thing, its infusion with profound and telling human emotion. 'Now You're Cooking with Gas' is a recipe for the application of such emotion, opening up a whole can of objective correlative.  There is a soupcon of narrative here for sure but the main delight is not so much the madeleine but the oven in which it was baked."
The rest of the issue is rich in creative nonfiction, too. We include a pair of thematically-linked pieces in Paige Towers's "The Sound of Undoing" and Erin Murphy's "For Deirdre, the Cocktail Waitress Who Bought My Book," along with "Bloodletting," an unsettling account of disease and misdiagnosis by Whitney Curry Wimbish, and another piece that arrived as a Torch Prize entry, Filiz Turhan's "Suzy Wong: A Fragment of a Dream."
The three stories in this issue are offbeat and set in varying contexts and time periods. Alex Sheal's "Camera Illumina," set in a coffee shop in Vietnam, features a resident philosopher who teaches a kind of "virtual" photography class with paper cameras when suddenly students on the other end of the viewfinder disappear. Ted Morrissey's "First Kings," set in a dreary snow-filled scene of the early 1900s, showcases a young woman battling the elements to retrieve the local midwife. On her blurry journey lines between reality and her imagination blend as she conjures up images of Death. Finally, Diane Allerdyce's "The Gift," set in late 1940s Akron, tells a heartbreaking tale of a neglected boy and the absent love of a distant father.
The poetry in this issue features new work by Sandra Cisneros, whose poem "My Mother and Sex" moves between austerity and pleasure: "Rapture for her / A library record symphony / 
Ecstasy, opera in the park." Also in this issue are translations of poems by Natalia Toledo and Enriqueta Lunez in Zapotec, Tzotzil (respectively), Spanish, and English. Rosebud Ben-Oni's "Love Song #1: To Erica & Stephen" delightfully offers a "recipe" for living in love and space travel, while Joseph Landi's poem offers a lament for a relationship at its end: "We sighed like trains between / stations, drawing them to us."
Artwork in the current issue includes multiple pieces by three artists: Matt Manley, who has become a regular contributor in recent years; Dave McClintock, making his first appearance here with a pair of powerful pieces on the American black experience; and Roger Camp, who first published his photography with NAR in back in 1972.
Our redesigned website www.northamericanreview.org has enjoyed a prodigious summer and fall with new poems, nonfiction, and reflections on the NAR conference appearing in our online venue Open Space, where Rachel Morgan reviews Edgar Kuntz's debut collection Tap Out ("These poems dig and pitch with realness") and Elizabeth Knapp's second collection Requiem with an Amulet in Its Beak (a "collection teem[ing] with modern laments that feel both private and collective.")

Since May 31, 2019, Walt Whitman's 200th birthday, Open Space has been hosting the digital project Every Atom: Reflections on Whitman at 200. We're publishing daily annotations curated by Brian Clements from writers, artists, historians, and scholars on the 1855 version of "Song of Myself." Brenda Hillman has written lovingly of Whitman's perfumes, the inward and outward atmospheres; Mary Jo Bang ponders Whitman's "anthropomorphic entity"; Nick Flynn notes how Whitman's "words transform—invert—a moment of existential despair." After 200 days, we'll integrate these annotations to create a single, interactive hypertext of the poem.