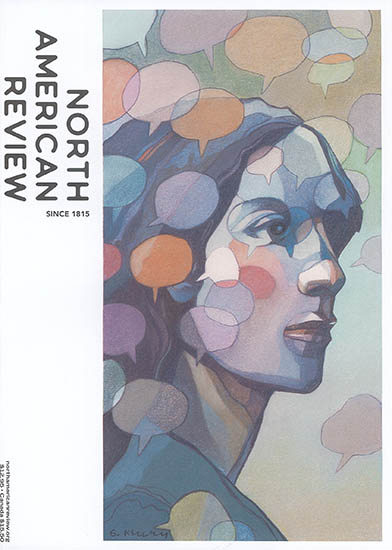 Buy this Issue
Never miss
a thing.
Subscribe
today.
We publish all 
forms of creativity.  
We like stories that start quickly 
and have a strong narrative.
We appreciate when an essay 
moves beyond the personal to 
tell us something new about 
the world.

Subscribe
FROM THE EDITORS
In the essay he presented at the North American Review Writing Conference last April, "Art Nowhere Else: Thoughts on the Literary Magazine," Travis Kurowski contrasts reading books with reading magazines, the former as "a method of learning to be alone," the latter "a method of learning to be with others….you read a literary magazine and think, I could be a part of this." He concludes, "Magazines, like marriages and love and life, are promises to an unknown future." We hope that is the spirit with which you enter these pages, as an invitation to be a part of this unknown future together.
This issue is our third since the grand summer redesign, and we're starting to get the hang of the new format. It allows us to publish work like Naoko Fujimoto's striking graphic poem "Protest Against" in all its visual nuance. Naoko also presented work from her forthcoming book Glyph:Graphic Poetry=Trans. Sensory (Tupelo 2020) at our recent conference. Editorial assistant Zach Schroeder prepared this bold, challenging piece for publication. In fact, all of our editorial assistants for this issue focused their energies on editing, proofing, and laying out a single piece, getting it ready for print. In fiction, Kayla Lawrence worked on Becky Hagenston's "Please Do Not Go Beyond this Point," and Al Meier worked on Juliana Crespo's "Para Sempre." In nonfiction, Jamie Ver Steegh worked on Nance Van Winckel's "Four from Sister Zero," and Bre Knight worked on Stephany Wilkes's "Personal Effects." In poetry, Mallory Wohlford worked on frequent NAR contributor (and former Hearst Prize winner) Martha Silano's poem, "What is beautiful? What is sad? What is apocalyptic?" and Haley Bunnell worked on Mitchell Untch's "Free Fall."
The fiction in this issue features four compelling pieces. Kate Campbell's "Boiling Out" mixes an offbeat exploration of misguided mentorship, hypermasculinity, and harrowing past trauma that coalesces into a vibrant yet subtle anti-war story. Becky Hagenston's "Please Do Not Go Beyond This Point" looks deeply into the hurt of addiction, thoughts of suicide, temptation, and the push to escape. It offers up no pat answers, and Hagenston's final paragraph delivers a stunning double-voiced conclusion. Juliana Crespo's "Para Sempre" delicately explores a mother dying of pancreatic cancer and the fallout it dusts upon her son Antonio. He can't come to terms with his loss, seeks flight, but eventually discovers a poetic goodbye. Poignant. Erin Flanagan's "Hold Steady" has a wonderful splash opening: winter storm; a bus slips into a ditch; Mom stuck in town; the bus driver, Lucy our narrator, is stuck taking care of Avery, her final passenger and Mom's daughter. They make it to Avery's house and wait things out. The big question: "So there's booze in the house?" Flanagan plays with time and builds to a quiet resolve. Beautiful.
This issue's nonfiction is equally poignant and beautiful. Anna Sandy Elrod's lyrical braided essay "And There Was" meditates on sound, language, religion, and creativity, becoming a sacred space unto itself. Stephany Wilkes's harrowing "Personal Effects" begins with the trauma of election night 2016, flashes back to an armed robbery thirty years previous, and returns to a post-election world facing the deep national challenge of guns, violence, hatred. The four experimental selections from Nance Van Winckel's haunting memoir-in-progress Sister Zero oscillates between two suicides, the author's sister's and fifteen years her nephew's.
We're always happy to feature poetry by Martha Silano, and "What is beautiful? What is sad? What is apocalyptic?" is no exception. It starts in the rosy dusk of a California sunset, but quickly moves to the terror of a California on fire ("White specks swirling in the wind") with the speaker yearning for snow, not ash. Baltimore's first-ever Youth Poet Laureate, Derick Ebert, was a finalist in the year's James Hearst Poetry Prize for his poem "Persephone as Black Son," which spins the myth through the eyes of Persephone's questioning son who "used to stand in your room, in your shoes / and prance. Some boys will be boys, differently." The Hearst Prize was judged this year by Ilya Kaminsky, who selected Katy Aisenberg's "The Invention of Ether" as the winner. Set in 1846 in Boston, the poem nevertheless speaks directly to our time: "They had no thought that their civil country would suddenly split in two / Like a woman laboring to bring forth an unwieldy child." The poem is part of Katy's newest manuscript The Ether Dome, which she says is "based on the theme of forgetting—personal and political."
Until April 1 we're accepting submissions for the Terry Tempest Williams Prize in Creative Nonfiction, judged by Alexander Chee, and on March 1 we'll begin accepting submissions for the Kurt Vonnegut Prize in Speculative Fiction. We extend our invitation not only to be "part of this" this issue but also the pages of our online venue Open Space, where you can enjoy more poetry, fiction, nonfiction, translation, reviews, craft essays, as well as the conclusion to our epic two-hundred-day project Every Atom: Reflections on Whitman at 200, which began on Whitman's bicentennial birthday with NAR contributing editor Martín Espada's annotation and ended with Ed Folsom's insightful summary and commentary.