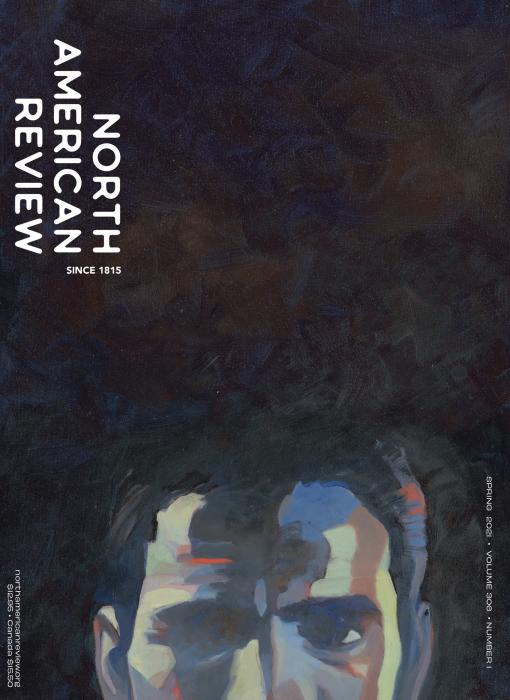 Buy this Issue
Never miss
a thing.
Subscribe
today.
We publish all 
forms of creativity.  
We like stories that start quickly 
and have a strong narrative.
We appreciate when an essay 
moves beyond the personal to 
tell us something new about 
the world.

Subscribe
From the Editors
Fifty-eight thousand Americans died in Viet Nam. At the time we are going to press, nearly 320,000 have died from the COVID-19 pandemic. Personal responsibility just doesn't work. Our hospitals are crowded, our nurses and doctors placed in harm's way, while too many people refuse to wear masks across the state. Why?
Our mythologies, the narratives our country tells about itself, are governed by a central contradiction of the American psyche: the belief in rugged individualism versus the call to collective duty. During the Great Depression, civics textbooks claimed the trait most admired by teenagers was self-sacrifice: people surrendering their own needs to the larger good. Crime stories and gangster films often feature individuals who climb the crooked rungs of the ladder to success and are punished for their acquisitiveness, their greed for power. Many stories, from the Godfather saga to Casino, feature marginalized characters who want to be perceived as legitimate, as part of a gentrified mainstream. How many action stories involve an official hero—a member of the church or law enforcement or government or the community—who needs the help of an outlaw figure to achieve a worthy goal? (Look no further than Shane; The Man Who Shot Liberty Valance; Casablanca; Devil in a Blue Dress; Star Wars…the list goes on.) Spenser needs Hawk. Victor Laszlo needs Rick Blaine.
How many times has social change come about through grassroots movements putting pressure on our government to provide for all its citizens? The Bonus Expeditionary Forces March on Washington in 1932 led to the GI Bill; the Civil Rights Act of 1965 grew out of Brown v. Board of Education (1954) and Black churches and the Black Power movement protesting segregation and inequality; Title IX came about because of the 1970s women's movement. The American Dream isn't just about the pursuit of happiness and making it on your own. It's about recognizing not everyone begins at the same starting line: some are a mile back; some two miles; some in a totally different area code.
Every time we see some maskless person walk in or out of a store, we should contextualize our feelings against this backdrop of American mythmaking, even if it doesn't alleviate our frustrations over 300,000 dead and our failure to protect the most vulnerable. Nurses and doctors are at the forefront of this struggle, and our Art Editor Gary Kelley honors them in his series of seventeen portraits, "Did You Wear Your Mask?" beginning with a 1918 pandemic nurse on page 59.
What role can art play in all this? It can offer hope, escape, entertainment. But art also exists in the middle ground between the personal and the collective. Many stories in this issue come from a place of true experience and involve themes of identity; all reach for a wide audience by evoking shared experiences and feelings. As Georges Poulet would have it, there is a collective consciousness to art. Or to quote another film, The Ox-Bow Incident, what Henry Fonda says about the law can be applied to art, too: "It's the very conscience of humanity. There can't be any such thing as civilization unless people have a conscience, because if people touch God anywhere, where is it except through their conscience? And what is anybody's conscience except a little piece of the conscience of all that ever lived?" Amen to that.
In the last few months, NAR has lost two really good friends of the magazine. "When the dead man thinks himself exposed, he puts on a mask," writes Marvin Bell presciently in Dead Man poem #23. "Thinking himself exposed, the dead man puts on a mask."  The lines of these recursive and expanded sonnets bristle with energy. As a teacher, Marvin would interweave stories about operating a ham radio and the rhythm of running a marathon;  a minute later he would move on to Shakespeare. Marvin always had an ear for sound, capturing the scatto rhythm in the consonants of his poetry, but also his boundless delight for poetry and story. He was beyond generous with his time and laughter, meticulous on the page, and courageous in his teaching. Marvin Bell was Iowa's first Poet Laureate, adopting the Midwest as another of his homes. When Robert Dana revived in 1964, Marvin served as the magazine's first Poetry Editor until 1969.
Brian Fitch, whose stories populated our magazine over the years, died last July after a six year battle with Parkinson's. Jenny Brantley, his wife of thirty-four years writes: "'Do you sometimes wonder, Why me?' He answered, 'Why not me?' Every day, he put his feet on the ground and moved forward with strength and few complaints." Brian was a generous, kind spirit, a two-time Pushcart Prize nominee, and an accomplished pianist. He cared deeply about his students at Wisconsin-Stout, art, Jenny, and humanity. We miss him.
In this issue, you'll find the results of two contests. The 2021 James Hearst Poetry Prize was judged by Maggie Smith, who selected "Geneva Avenue" by Kirsten Abel, a quietly narrative poem weaving through abandonment and childhood. This issue also includes "Erasure" by Lydia Paar, winner of the 2020 Terry Tempest Williams Prize, judged by Alexander Chee. In it, Paar questions the fantasy of erasure, probing its limits, imagining it as communion. •