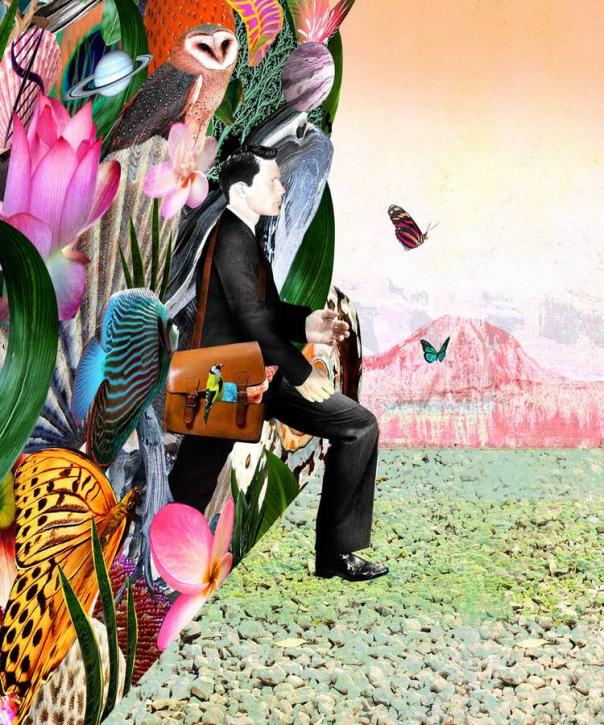 4 Epistles to Mother Earth (Pt. 4) - Hummingbirds
I had my eyes on the sky for some time
& for a while I Watched those
clouds - horsed grew into impossible trees
turning blue, then braids of silver rain chimed
inide the grasses. it's time I let you in
on a little secret: it was during those days-
in the ruh-rah  of each Fall - wing beats frayed
at my ears from three hummingbirds in a din
that orbited me. Could I be your sweet source?
You were not winged gods. You were twitch,
tendons, sternum, a high-octane stitch,
tiny, mercurial endotherms, coursing
nectar metabolizers. But my doubt ended-
your violets succeeded int heir iridescence.
I loosened (my heart unspooled) in your presence
& you wrapped inside of me-curve, descent.
- Kevin Phan
---
Brian Michael. Today, he's a police officer in Shreveport, Louisiana, where he patrols the lakes, administers tickets, & wrestles alligators into submission. During the summer of 2006, though, he was an animated summer camp counselor & maintenance worker for the Colorado Mountain Ranch in Gold Hill, Colorado. We were both commercially licensed school bus drivers transporting campers to & from Boulder — it's a day camp. As members of the maintenance team, we were responsible for the caretaking & upkeep of the property & fleet of vehicles. I changed the transmission fluid for the buses; Brian built a birdhouse. I mended a fence; Brian built a birdhouse. I would bear-proof a trash trailer with a solar powered electric fence; Brian built more birdhouses.
Brian's most famous birdhouse, as best I can recall, was "The Lovebird Motel," a sky-blue property with a marquee which advertised, "cheep, cheep rates." At least a hundred birdhouses were built over the course of that summer. Soon, our avian community multiplied & multiplied. He was something of a Dr. Doolittle of winged things. You could see them singing in & out of the aspen grove & blue spruces. (Hugh Lofting would have been proud). 
When unoccupied with birdhouse assembly (or working by my side on maintenance repairs) he brainstormed & executed on unique design projects. My favorite, hands down, was the hummingbird helmet. The design was a simple collage from miscellaneous debris from around the property: a sunflower-yellow construction worker helmet with an added chin strap, the broken end of a fishing rod, a scrap of rope, & a hummingbird feeder filled with sugar water.
The fearful – joyful – ecstatic pleasure on the children's faces when they strapped this wild concoction to their heads was priceless! The wing-beats from the hummingbirds was like a swirling current of air that brushed your face. Some were fearful of the helmet, dubbing the birds "flying darts of death." Others, though, could not get enough. To look at the chubby, squat faces of the campers who looked at their fellow campers with a look of trembling excitement was pretty awesome.
As for myself, I rather loved the experience of being strapped into the helmet. You might very well imagine the unique sight of these visuals, & how a city boy from Iowa could break down into a state of sympathetic identification & (later) wonder.
---
Illustrations by: Anthony Tremmaglia. Anthony Tremmaglia is an Ottawa-based illustrator, artist, and educator. His clients include WIRED, Scientific American, Smart Money, HOW, and San Francisco Weekly.