In the spirit of Halloween, we have decided to post a poem by contributor Cynthia Atkins. We hope that you enjoy her work as much as we do. "Elegy for a Scarecrow" originally appeared in issue 296.4.  Happy Halloween from the staff of the North American Review.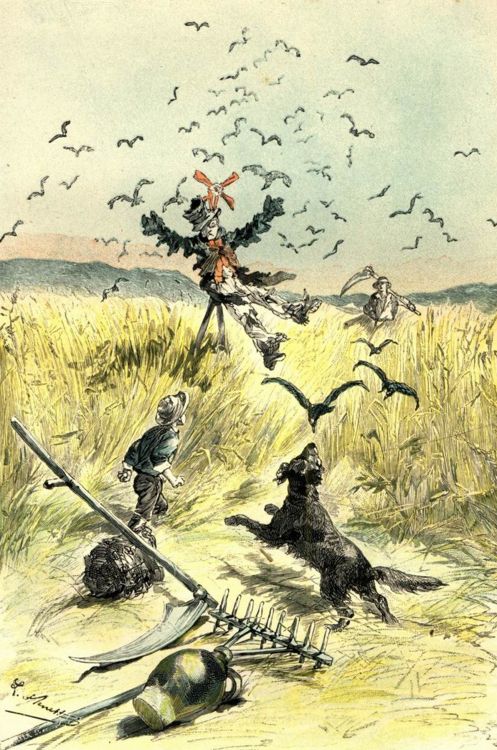 Elegy for a Scarecrow
October's henchman has bled again.
Evenly the straw is strewn over beds
without retribution or shame.
An amplitude of human contact
stitched into the farmer's flannel shirt,
which still smells of apple core, smoke and hay.
This hired hand without pay, here to usher
in bounty and in harvest, yearning echoing
like an owl in the barn. At first frost,
he was face down. He knew his place
and his art, presiding over compost and rue—
the last of the vegetable soup stirred
in a barren widow's kitchen. Last spring,
the freckled ghosts of her children sprinkled
blown seeds in all the wrong places—
A fortuitous garden grew just the same. A brush
of pollen, and the landscape shivers, alone as a child
on a train. He had never said a word, but she waited
for his company, patient with his serious business
of weather. Straw man befriending faceless
pumpkins in the midnight sun.
The crows are inconsolable—
their wings leave stains across the moon.
Cynthia Atkins' poems have appeared or are forthcoming in Alaska Quarterly Review, American Letters & Commentary, BigCityLit, BOMB, Caketrain,,Clementine, Del Sol Review, Denver Quarterly, Harpur Palate, Inertia, The Journal, North American Review, Sou'wester, Tampa Review, Valparaiso Review, and Verse Daily among others.  Her second collection, "In The Event of Full Disclosure" was recently featured  on the Huffington Post and the Bill and Dave Cocktail Hour, and reviewed in [PANK] and the North American Review.  She earned her MFA  from Columbia University's School of the Arts and holds residencies from the VCCA and Breadloaf Writer's Conference and currently is an assistant professor of English at Virginia Western Community College, and lives in Rockbridge County, VA on the Maury River with her family.