Introduction to Every Atom by project curator Brian Clements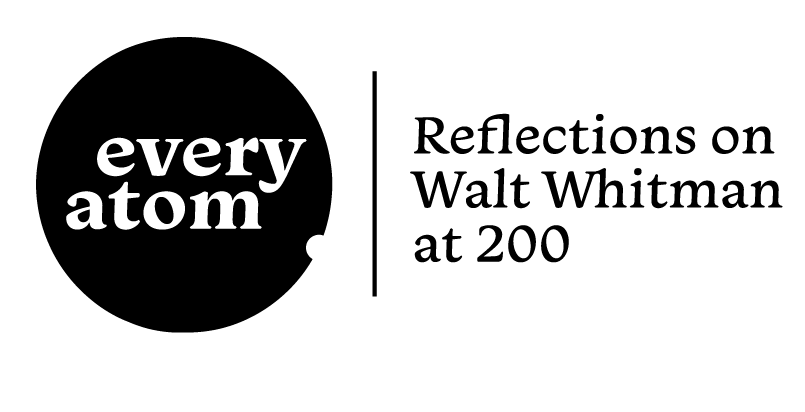 This is for me one of the most resonant, intriguing phrases in Leaves of Grass. It appears more than twenty-five times, often at significant moments. "Whoever you are, come forth!" he urges in "Song of the Open Road." A poem in the 1856 edition is even titled "Poem of You, Whoever You Are" (in a later edition he sadly shortened it to "To You").
This is a favorite phrase, because, as a biographer of Whitman, I always sense it is profoundly self-revealing. Even before his epoch-shattering first Leaves of 1855 burst on the scene, he was writing poems expressing a yearning for connection with his own true love or Camerado—that is, a Mr. Right. His search for a man to share his life never succeeded, though there were tantalizing candidates over the years. See his short poem "A Glimpse," which captures one fleeting eureka! moment—in a crowded bar.
Leaves, of course, can be read in a variety of ways, but one way is to see it as an elaborate effort to cruise and court a lover—that one person, whoever he might be, who might complete his life. (Nowadays that search can end in a marriage recognized by society and the government, but the very forward-thinking Whitman never even broached that utopian possibility!)
This is the subtext that makes the poet/reader relationship in his poems so often fraught with ambiguity, innuendo, excitement, and erotic possibility. One sometimes has to pause and ask: is this a poet speaking to me or a seducer?  In "Song of Myself," for example, he sidles up to the reader and whispers, "This hour I tell things in confidence,/ I might not tell everybody, but I will tell you." Maybe he used such a come-on gaining a reputation for gregarious schmoozing.
Behind many of his most autobiographical poems is the desire to be one of those "two boys together clinging" that he celebrated in his most "out" poem cluster, the Calamus poems of the 1860 edition. Those poems made it clear that, though he despaired of such paradisal joy for himself, he hoped it would come to those of his future readers who are gay men. This surely is why Oscar Wilde, who made a pilgrimage to visit him in 1882, later wrote that Whitman "was the herald of a new era. As a man he is the precursor of a fresh type."
I wrote long ago that Whitman is the most touching of all poets. He made this clear at the end of the poem he placed last in the final edition of Leaves:
Camerado, this is no book,
Who touches this touches a man.
                                                         ["So long!"]
I'd like to think a homoerotic innuendo is embedded there.