Introduction to Every Atom by project curator Brian Clements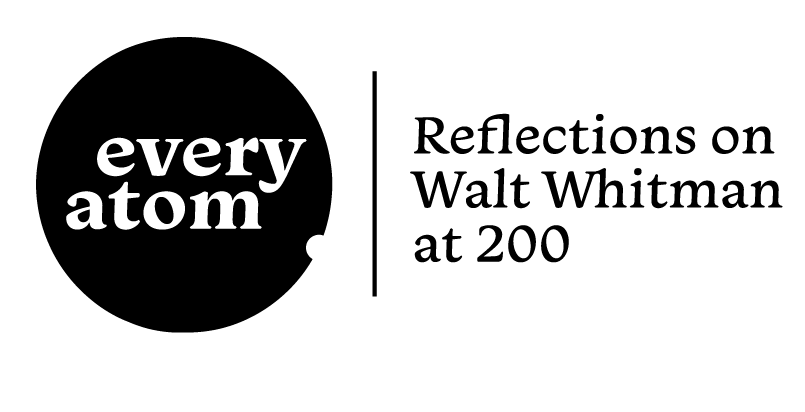 The glorious fecundity of this passage is rooted in its dactylic rhythms. Combining richness and innocence, it anticipates another passage to come in a later edition of Leaves of Grass:
No poem proud, I, chanting bring to thee, nor mastery's rapturous verse,
But a cluster containing night's darkness and blood-dripping wounds,
This passionate passage is one of my favorites in Whitman in spite of the fact that (or perhaps because) it belies itself. It belies itself because Leaves of Grass is "a poem proud," bursting with "chanting" and "rapturous verse." It is the proudest poem I know, even prouder than Wordsworth's "Prelude;" unlike the "Prelude," it is not only fully conscious of its pride and arrogance but actually proud of them.
Yet in spite of the falseness of this passage within the wider context of Leaves of Grass, Whitman makes himself honest here. His midnight-thick cluster of bloody word and image manages to hum with the desperately silent, darkly feminine energy it depicts. For a line and a half, it comes true.  Starting with the word "rapturous" at the end of the first line, the poet turns his pride inside-out the help of a secret ingredient, the transformative tool of triple meter. This is one of the most sustained passages in this rhythm in the poem and one of the most thematically powerful; it feels like a kind of incubator for the earthy, emotional imagery of triple rhythms elsewhere in Leaves of Grass.
I find it touching that Whitman is so greedy to claim and plumb and taste every cranny of his poetic capacity. In spite of his arrogance and need for poetic power in this passage, he chooses to inhabit even the darkness and silence because he can. He needs it so much that for the short moment of claiming it, he succeeds in creating it, willing it true.