A red car points west. Darkness, plush pine trees and a lemon slice of moon backlight it. A gas pump nudges the car's rear bumper.
But it isn't just any car. This car resembles a 1949 Mercury right out of the animated imaginations of the Fleischer brothers, the same kind of car (albeit a convertible) Batman drove in the second serial Batman and Robin and James Dean raced in his famous chickie run from Rebel. The Merc is the coolest of muscle cars, revving next to such gems as the 1964 Ford Thunderbolt, the '63 Ford Galaxie, Broderick Crawford's 1955 Buick Century, and the '65 and '67 GTO's. Bruce Springsteen sang about this car in "Cadillac Ranch"; Brian Setzer crooned his own ode in the Scotty Moore-inflected rockabilly classic: "'49 Mercury Blues." The car's gleam jumps from the screen like splashes of paint, screaming blood and passion, courage and mischief.
And I can't think of a better way to define Gas Station Pulp than this image, designed by Sarah Pauls for our new imprint series, debuting Fall 2017. Pauls's image is Art Deco retro, a return to the past that also glances forward to the future, the west, the direction the car is pointing, and a possible new frontier in crime noir publishing. We want to travel the blue highways to the inner lives of complex psychological characters. Within Pauls's black shadings are canvas-like markings around the rear driver-side tire and the "G" in the crest's title, reminiscent of the opening title sequences to classic films like The Best Years of Our Lives and On the Waterfront.
Classic lines, classic look. Shit, I want to order a series of gas-station shirts with this crest on the back and my name over the tire gauge in my left front pocket. Maybe even join a league just to bowl and show off these shirts.
Anyway, in noir fiction, sex, violence, passion, and blood abound from the works of Cain to Block, from Chandler to Thompson, from Stark to Collins (Max Allan Collins's Quarry is an inventive extension and reworking of Richard Stark's Parker). Oh, and how did Quarry begin his life of crime? He kicked a jack out from under a car and killed a guy who was working on said car (wonderful shout-out to Robert Aldrich's Kiss Me Deadly). Our new series hopes to build on the traditions of the past, melding the irrational psychological chaos of old-school noir with a new school's literary emphasis on character-driven inner stories.
And the car—I can't take my eyes off it.
Paul Schrader in "Notes on Film Noir," said that many noir protagonists search unsuccessfully for an irretrievable past. Or, the past always catches up with you. The doomed Jeff Bailey (Robert Mitchum) in Out of the Past seeks sanctuary in a pastoral idyll, but a car pulls into town, parks by some gas pumps, and the hit man's asking questions. In the finale, Bailey rushes toward death as the femme fatale shoots him, in a car, and he crashes it. In The Killers, ex-prizefighter Ole Andreson (Burt Lancaster) tries to hide from the mob in Summit, but Colfax finds him, by, once again, pulling into a filling station.
Cars can also represent solace: inside the trapped, intimate confines of a car's interior the detective can express how he truly feels. In The Big Sleep, a car is where Philip Marlowe (Humphrey Bogart) lets down his wisecracking persona, and on two separate occasions confesses his appreciation and love for Vivian (Lauren Bacall).
(A sidenote: when I was two, three years old, in 1963, I could name every brand of car on the road. Mom thought this was a sign that I was the next Albert Einstein, but it only proved that I really, really loved cars. Still do.)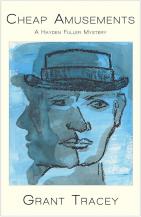 Tracey's crime novel, Cheap Amusements
When Hard Case Crime publisher Charles Ardai rejected my crime novel Cheap Amusements (available now from Twelve Winters Press) he gave me some great feedback (including suggestions that the novel's beginning was too slow; the plot too complicated), but one of the bits of criticism that took me aback was his feeling that the book was "too literary." If by too literary he means the tone inconsistently moved from pulp noir to language of "higher elevations" then I'm cool with the criticism, but if he's suggesting that literary writing and its emphasis on the "inner story" and character can't be crossbred with pulp writing and its emphasis on outer-directed action, then I can't agree.
One of my goals as editor of Gas Station Pulp will be to seek out that middle ground in this continuum. Patrick Modiano, a writer I confess to having paid no attention to until he received the Nobel Prize for literature, writes literary fiction with a noir impulse. I've read eleven of his books—among my faves: Paris Nocturne, After the Circus, Honeymoon, and In the Cave of Lost Youth—and all of them slip between at least two time lines, have a surreal vibe, and move freely within the forms of narrative telling, eschewing many of pulp's standard screenplays-as-fiction groove (i.e. classic scene time) for half-scenes and inner omniscience. What I love about his work is the voice, a poignancy and sense of loss that floats upon its own sensuous ether.
The best pulp fiction is voice-driven: Richard Stark's lean prose and professional reserve in the Parker novels; Jim Thompson's fractured selves, the disintegration of the mind, showcased in much of his work (at the end of Savage Night is the creepy killer lost in delusions or is he literally being hacked to death); Mickey Spillane's high-octane verve and emotionalism in the first six Mike Hammer novels; Raymond Chandler's romanticism and sad poignancy in the Marlowe novels; John D. MacDonald's empathy for women and fear of the primordial l'homme fatale in works like the Executioners (later made into the noir film Cape Fear) and The Deep Blue Good-by.
Recently I watched an offbeat, second-rate noir starring John Payne, Hidden Fear. The film had great fight scenes, moody visuals, on-location shooting in Denmark, and odd detailing, such as a woman with cavernous eyes who mumbles disjointedly about WWII. But the heart of the film, its inner story, is missing. An American cop (Payne) travels abroad to prove that his sister is innocent of murder; however, he says, "I'm not even sure I like her." She's "a tramp" (in the parlance of 1957 definitions). Yes, Payne solves the crime, finds her innocent, but I get no sense of his evolving feelings vis-à-vis his sister or how tracking the mystery helps to move him to a fuller understanding of her character and the shifting dynamics between them. That's something I'd like to see developed alongside the action plot line, and something I'd expect to see in the works published here at Gas Station Pulp.
Two crime noirs that I'd like to briefly mention as benchmarks, stories that I want Gas Station Pulp to aspire to: Elliott Chaze's Black Wings Has My Angel and Daniel Boyd's Easy Death. Chaze's novel is a rediscovered Gold Medal classic from the 1950s (courtesy of NYRB). It has a James M. Cain-meets-Hemingway nuance and is full of wonderfully defamiliarized details including a woman dancing goofily (note the adverb: Thompson loves them too) before she falls to her death and a protagonist killing a man during a heist and never realizing beforehand the messiness, the grit and bone that a knife has to punch through to close out a human life. Chaze moves crime noir from the urban centers to the near west, and his world is full of sex, fatalism, and death. Boyd's Easy Death (Hard Case Crime's best novel and I've read more than sixty of them) borrows the furniture of 1950s pulp movies (Phil Karlson's Kansas City Confidential meets Jacques Tourneur's Nightfall) and puts them in a different room. Boyd plays with the conventions of the heist film, giving us many twists and turns, and updates representations of gender and race and sexual orientation to a new millennium context, providing us with a female park ranger who's very strong, smart, and likable. And the title: Easy Death. Wow. You're not going to forget that one; it's right up there with The Big Sleep: the old meeting the new.
As a fan of pulp noir, I have a respect for the past but also want to move forward into the present: retro three-chord rock with a hard bop, jazzy backbeat. I'm not into parody or postmodern mockery. Play with the paradigms, especially the femme fatale, deconstructing the pervasive sexism so apparent in the genre. Expand pulp's boundaries by giving us an even greater emphasis on voice and the inner lives of characters. Jean-Patrick Manchette's Gunman packs a wallop, but The Mad and the Bad reads too much like self-effacing allegory, a joke at the genre and reader's expense (Full confession: I know nothing about the Situationists—an alleged influence on Manchette—even though I did, at one time, teach a film course on Jean-Luc Godard).
So, if you're interested in being a part of our new series, look to our submissions manager for forthcoming details. I suspect that there are many writers of literary fiction who read mystery/hardboiled novels and have a work of such savage art (to borrow Robert Polito's term for Jim Thompson's craft) in them. We seek to create a venue for that market. Our plan is to have a reading period of thirty days sometime this fall or next winter. We'll ask for the first two chapters or up to fifty pages of your crime noir. I like shorter novels (60,000–75,000 words). If we like what we read, we'll ask for the rest of your book. And from all of our finalists we will select one crime novel to publish the following year. Depending on the level of interest, we plan to publish a crime noir a year under the Gas Station Pulp banner.