In the early morning hours of October 24, 2005, I got up to watch the news; little did I realize it would be the last time I'd be using electricity for over a week.
For weeks, we'd been watching the progress of Hurricane Wilma. We had just finished cleaning up from Hurricane Katrina, which hit Florida on its way to New Orleans. We had a huge ficus tree, and when it fell, it took up much of the back yard. It didn't hit the house, but it did smash a shed to smithereens, along with the fence line.
So we got that cleaned up and a new shed built, just in time for Hurricanes Rita and Wilma (the shed survived the tests!). I have no memories of Rita, but Wilma was different.
I knew that Wilma would come ashore on the west coast, so I assumed that it would lose power as it crossed the peninsula. On the contrary, our puny land mass didn't seem to affect it at all.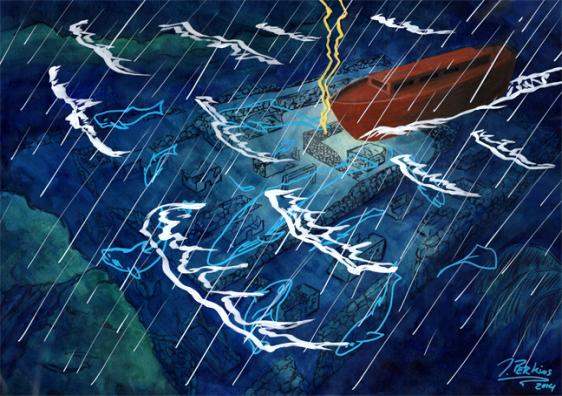 Some people say that Wilma was only a category 1, but I'd swear it was a 2. When I saw all the damage, I wondered if it was a 3. At any rate, it's sobering how much damage a strong 1 or 2 can do. Some parts of our county were out of power until Thanksgiving. Our house lost some of it's roof shingles and had some damage, but nothing catastrophic.
Our church was much more damaged than our house. Winds peeled back the flat roof over the educational wing. The sanctuary was also damaged—lots of water intrusion. Happily, the carpet was old, faded, and ugly. No one cared that we had to get rid of it.
No one cared, but few people showed up to help with the hard work of hauling it out of the building. To be fair, we were an older congregation—there were only about ten of us capable of doing that work. And it took a long time for the streets to be passable. My spouse and I didn't live far away, so we could show up to work.
I remember the day that the bishop appeared. I had been hauling wet carpet to the curb after ripping it out of the sanctuary. I was wet and dirty, with bloody hands, when two men came into the sanctuary. They must have been dressed in casual clothes, because I asked, "Are you the carpet guys?"
The assistant puffed up a little and said, "This is the bishop."
Oops. Like I said, I'm fairly sure they were dressed in casual clothes. If the bishop had come wearing his purple shirt and his impressive cross, I'd have known he wasn't the carpet guy.
Somewhere there's a picture of me, dirty and wet, shaking hands with the bishop.
The bishop looked at our damage, took notes, and left us with a case of bottled water and some tarps.
At the time, I remember wishing for a bit more help with the physical labor, as I went back to ripping up carpet and hauling it to the curb.
But later, I got a great poem out of it, "Strange Communions," which was published in the North American Review.
It's part of a series of poems that imagines what would happen if Jesus came back in our current world and moved among us today. Long ago, a Sunday school teacher asked us what we thought would happen if Jesus came back today (today being 1975). Little did she know that I'd still be playing with that question decades later.
---
Kristin Berkey-Abbott has published widely in a broad variety of journals, and, in 2004, Pudding House Press published her chapbook Whistling Past the Graveyard. In 2011, Finishing Line Press published her chapbook I Stand Here Shredding Documents. She earned a PhD from the University of South Carolina and she is the chair of Humanities and Communications at the Art Institute of Fort Lauderdale. She blogs about books, creativity, poetry, and modern life at http://kristinberkey-abbott.blogspot.com and about theology at http://liberationtheologylutheran.blogspot.com. Her poem "Strange Communions" was published in issue 294.2 of the North American Review.
Illustration by Justin Perkins, who graduated from College for Creative Studies. A freelance illustrator and designer, he teaches art in Detriot. Justin's first illustration for the North American Review appeared in issue 298.4.