For the 2016 spring issue of The North American Review, I was inspired to have the viewer of the magazine be an outsider peering in. Since "Angel Dust" deals with magical moments in secret, it gave more importance that the readers are looking from the outside. I recently started to buy more photography books for reference and found this unique book, entitled Elsewhere by Marieken Verheyen, which is filled with different windows around the world. I was inspired by the how narrative can be achieved simply by looking through windows and seeing how people lived inside and outside the window. This short story was an opportunity for me to use the window as a way to show how the girls used their magic as well as emphasize that this a concealed moment between them.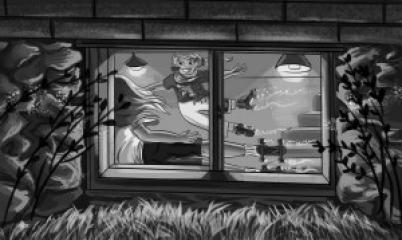 This scene takes place in the basement, which have distinctive windows. This gives the viewer the immediate observation where the setting is by using the close proximity of the grass and the brick and stone exterior as additional clues. In addition, I wanted to have the viewer constantly looking at the two sisters. This was achieved by the direction of the grass and flowers, as well as the lighting. These design elements invite the viewer to look straight at the girls and if the eye wonders, then the vegetation redirects them back to what is happening in the window. The ceiling lights in the basement also allow the readers to continue to keep their eyes on the sisters.
I wanted to emphasize the sisters' attempt to be discreet about using their magical dust in a private environment. I love the joy that people experience when they first experience something and hope to communicate that in this piece. In the short story, their uncle was also in the scene, but I wanted the purity of youth to shine through as well as illustrate that this is a moment between two young sisters. "Angel Dust" is a story of two sisters, and I wanted this special moment between them be the prime focus to this illustration.