A California girl who whines when the temperature falls below sixty, my only experience of "serious" cold has been the occasional winter jaunt to Lake Tahoe. Maybe because of this, I've always been drawn to fiction, news articles, and films about the polar regions. Since I was a teenager, when one of my favorite books was Endurance: Shackleton's Incredible Journey, I've loved stories about arctic explorers testing themselves by signing on to almost unendurable trials of physical hardship, of mountain climbers facing frostbite, avalanches, and gaping crevasses just to "conquer" a notoriously treacherous peak. From the comfortable vantage point of my couch, I've developed a fascination with icy, deserted terrain: snow-capped ranges, celestial blue glaciers and fiords, the visual tabula rasa of ice sheets. For a long time, the polar regions were places where men (it was always men) defied nature to test body and soul. In those times it was men against the forces of nature. Now it's the other way around. It's not surprising, then, that in the autumn of 2018, around the time of the November elections, I became obsessed with news articles and pictures of Larsen Ice Shelf C, its iconic rift line zagging through a blank expanse of glacier, an almost too obvious metaphor for our political divide.
The Larsen Ice Shelf is made up of series of ice shelves on the east coast of the Antarctic Peninsula. It isn't a distinct shelf, but a series of ice shelves on the crenellated edge of the Antarctic Peninsula. In the last three decades, Shelves A and B have lost mass and served as poster bergs for global warming. Now Shelf C is facing the same fate. When I looked up the Larsen Shelf in Wikipedia, it said the shelf extended from Cape Longing to the Smith Peninsula. Cape Longing! How we live inside these names.
Just two months before the election, I read that a trillion ton berg had split off Shelf C in the preceding year, carved off the coast like a seceding eastern seaboard state. That autumn it had freed itself from the enclosing terrain and began to float freely. Around the same time, another ice berg excised itself from its surrounding shelf and emerged as a rectangle, eerily resembling a Midwestern state. Throughout late fall and our early winter, as satellites and drones recorded the gradual disintegration of the bergs, and as my friends and colleagues were lamenting the state of our country, I began to write my poem.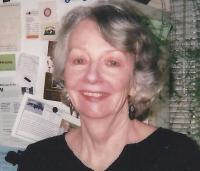 Jeanne Wagner is the winner of several national awards: most recently the Arts & Letters Award, The Sow's Ear Chapbook Prize and the Sow's Ear prize for an individual poem. Her poems have appeared in Cincinnati Review, Alaska Quarterly Review, Shenandoah, Southern Review, and Hayden's Ferry. She has four chapbooks and two full-length collections: The Zen Piano-mover winner of the Stevens Manuscript Prize, and In the Body of Our Lives, published by Sixteen Rivers in 2011. Jeanne Wagner contributed to North American Review, 304.2.