"Don't be afraid to get really strange," my dad told me several summers ago, while helping edit my first novel. "You can always scale back later."
As always, I took his advice to heart. For, as a writer and creative writing professor, Dad's editorial input was invaluable.
These would be his last words of advice to me about writing.
Dad, along with our actress mom, raised my sister and me in sleepy Midwestern towns, enlivened with magical bedtime books, such as Thomas Williams's obscure fantasy Tsuaga's Children, and Dad's own invented stories of white-eyed aliens and enchanted ice cream mountains.
"Angel Dust" is the first story I wrote after losing him.
Though I couldn't run it past him, I could incorporate his love of magic realism; this notion of something surreal lurking behind the scenes, just beyond the edges of humdrum reality.
"Nothing is boring years later," states one of his letters to me when I lived in London in my twenties. "Daily details transmogrify to haunting."
Funny, the daily details from childhood that come back to haunt. A grouchy sunbathing babysitter. A burly, frolicsome one-night houseguest. The feathery caress of a mother's fingertips. A sister's raggedy security blanket. A father leaping from a roof, open armed, into a mountainous snowdrift.
One day shortly after moving to London, I ducked into a red phone booth in Green Park, strung out from an epic bout of nightclubbing. "Maybe you should try a different scene," suggested my dad over the phone. "Try writing groups or go to some readings. Write about your new life."
It wasn't until years later that I'd take his advice. When the heady thrills of London had morphed into the more civilized pleasures of Midwest American domesticity. Over eight years, he and Mom helped edit my novel set in 1990s London.
I was chipping away at a second book, a YA magical adventure story, when our family was slammed by his sudden terminal diagnosis.
Unfathomable, trying to find magic in the abyss of grief.
And yet, there are glimmers.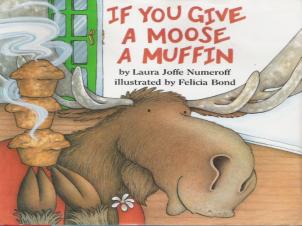 About six months after his death, I spent the better part of a day desperately searching my house for If You Give a Moose a Muffin, a book he'd inscribed with a sweet message and silly cartoons to my older daughter when she was a toddler. For hours, I scoured closets and beneath beds and sofas, growing more and more maddened by the baffling disappearance of this keepsake.
Finally, I gave up and tried to push it from my mind. I wouldn't even mention it to the girls, I decided, as I didn't want to sadden them.
As I was putting my younger daughter to bed that night, she hovered on the shallow-breathed cusp of sleep, when she gave a start. "I'm so mad at myself!" she announced.
"Why, hon?"
"I wish I hadn't given that book to Ms. Hillocks!"
I paused, heart in my throat. "Which book, honey?"
"If You Give a Moose a Muffin."
Unbeknownst to me, she'd nabbed the book from her sister's bookshelf, slipped it into her backpack, and given it to her first grade teacher last year as a Christmas gift. At first I was elated—mystery solved. But then I plunged back into despair. For this was about eighteen months ago, and Ms. Hillocks had since left the school. Surely the book was long gone.
First thing the next morning, I e-mailed the current teacher of that first grade classroom, explaining the situation, begging her to search her classroom, just in case.
The reply came within minutes: "Good news. I found the book."
---
Illustration by Justin Perkins. Justin Perkins graduated from College for Creative Studies. A freelance illustrator and designer, he teaches art in Detriot. Justin's first illustration for the North American Review appeared in issue 298.4.