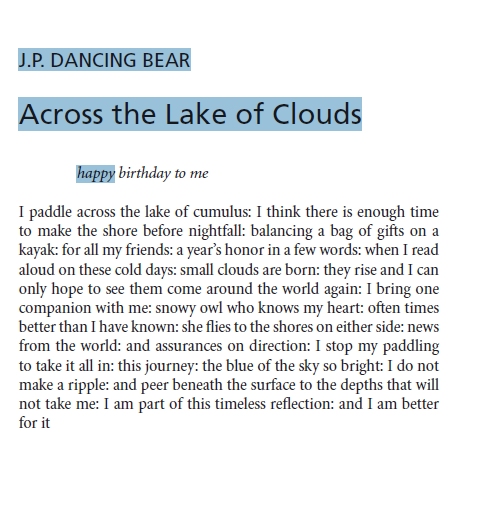 I will start with all the history I can said in as few words as possible… this poem came on the last day of a project that ended up being over 1400 poems written in a year, where I had written a poem on the birthday of each of my Facebook friends. "Across the Lake of Clouds" was my poem to myself. It felt like I had been on a very long journey, a very selfless journey in that none of the other poems in this series used the word "I". So here it was: my birthday. Did I want to even write myself one? Did I want to use "I" or did I w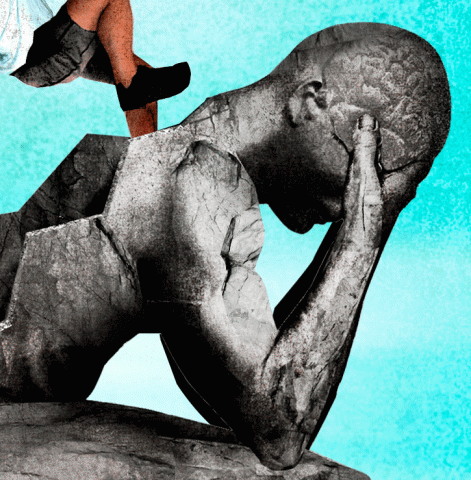 ant to refer to myself in second person? I went out and looked for artwork that might work for this hybrid series of poems and I found a piece (I still don't know the title) painted by Azat Minnekaev, and I thought, it really speaks to me. When I wrote this poem, I still had some ten more poems to write before I finished. I was so close, and yet, I knew I didn't want to finish on a poem to myself. So the painting was of a native, I assume in Siberia or further north, paddling a canoe across still water reflecting the sky, dressed in a warm winter coat, a full sack behind him on the canoe and a snow bird hitching a ride on the back. There's a sense of seasonal change, that things are about to change. It seemed like a great metaphor.
In hindsight I don't know how I did it. I still wake up some mornings in a panic thinking I had forgotten to write yesterday's poems. This was the hardest project I've ever worked on, but it taught me so much about myself, about writing, about some beliefs regarding the writing process, and yes: faith. I look back at this poem, and it takes me back to the day, to the painting, and the feelings I had. This poem has become the lake of clouds for me, I am part of its reflection and I am better for it.
---
J.P. Dancing Bear: Is the author of seven full-length books of poems, six chapbook, several essays, and more than 1000 individual poems in such magazines and anthologies as American Literary Review, Crazyhorse, Shenandoah, Mississippi Review, Natural Bridge, DIAGRAM, No Tell Motel, Third Coast, Copper Nickel, Cimarron Review, Poetry East, North American Review, Atlanta Review, Verse Daily, Poetry International, Marlboro Review, Hotel Amerika, Seattle Review, Permafrost, Puerto Del Sol, Controlled Burn, Cranky, Rattle, Americas Review, Slipstream and many others.
Illustrations by: Anthony Tremmaglia. Anthony Tremmaglia is an Ottawa-based illustrator, artist, and educator. His clients include WIRED, Scientific American, Smart Money, HOW, and San Francisco Weekly.