Black Fin
by Mary Frisbee
Published North American Review Press, 2018
$14.95 paperback
ISBN: 978-0-915996-14-8
---
As a reader and a writer, my go-to definition of noir has always been "little people making big mistakes." The classics of the genre, such as the books of James M. Cain or Jim Thompson, focus on that tiny sentence and take us to the most hellish depths of the human condition. Booze, pills, and miserable sex help to undermine any sense of balance. Small towns rife with corruption are key, and it doesn't hurt to have an exotic maguffin that gets tossed around like a football among these morally bankrupt characters.
Mary Frisbee's Black Fin has all of that, in spades.
The inaugural publication of North American Review's new imprint, Gas Station Pulp, opens in a literal hell, and things only get worse from there. The narrator, Olive Wiley, is broken in nearly every way imaginable. But when fate drops a mute child in mortal danger into her lap, she proves worthy of her name. Olive draws on her experiences as a neglected child and petty thief to become exactly the guardian angel little Sarah needs. A combination of Gena Rowlands' Gloria and Lisbeth Salander, Olive schemes her way into the eye of a storm that includes murderous first responders, duplicitous car salesmen, and a treasure of royal proportions.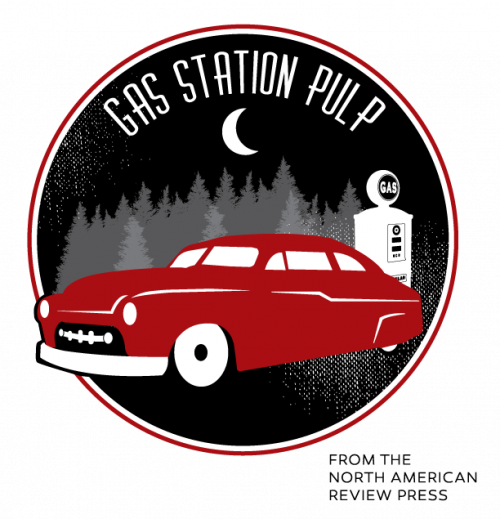 Mary Frisbee establishes Olive's smart, empathetic, and wounded tone early on. Resourceful and loving in a world that has rarely shown her a single kindness, Olive invites us into the darkest parts of her soul as a way to urge us along on her fast-paced odyssey along the coast of the Pacific Northwest. She shows an affinity for noir film and books, and a self-conscious understanding of how compromised characters like Sam Spade got caught up in similar quests to protect the innocent and reestablish order.
Black Fin careens from one scene to another, deftly moving us between what's happening right now, what led up to the two main crises that open the book, and how Olive came to be who she is. We're rooting for her at every stage, even when she crosses lines that Spade would never even approach. Mary Frisbee's pacing never flags, even though she's given herself a huge obstacle in making one of the two main characters unable to speak. Still, we feel the emotional bond between them, and ache with the same longing and desperation they feel.
The book carefully walks the line between modern setting and classic noir references (Olive is a connoisseur of the genre), but the book never reads like an homage to what's already been done. Instead, it's its own story, with present day implications and concerns. The characters are real, not B movie cutouts, who each in their own way are scarred and yet likable. Twists and turns abound, while keeping us firmly in the story, right up to the devastating conclusion. Black Fin is a hell of a fun story to read, one that will stay with you long after you've left that world behind.