Superstition Review: Our Lucky Issue 13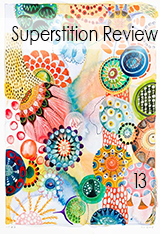 Even though our magazine is named after the Superstition Mountains (not just superstition in general) we feel like our Issue 13 is pretty lucky. Why? You ask?
Well, in an age when many programs and departments are slashing budgets, Arizona State University has shown a lot of love to Superstition Review. Here at SR we take that as a sign that at least in our small corner of the literary universe, we're doing something right. Here are some of the things we did this semester that we think are pretty cool:
1. We have published 60 artists/authors we admire in a beautiful format that is free.
2. We have shared literary news and ideas (and job ads!) across our social networks.
Blog
Facebook
Goodreads
Google+
iTunes U
LinkedIn
Pinterest
Tumblr
Twitter
YouTube
3. We have encouraged our community to subscribe to and read other literary magazines.
4. We have attended literary events in our town and at AWP in Seattle.
5. We have given back to our community in ways that enhance literacy and the arts. This year we did that three ways: a collaboration with the Creative Writing class at Combs High School, volunteering with Free Arts Arizona, and volunteering with UMOM's Read to Me Program.
Here's just a little bit of information about Issue 13:
Art
This issue features 10 artists from across the country and in a variety of media: from glass sculpture to photography to acrylics. Our cover is by New York painter Melinda Hackett. I solicited art from her after seeing her work on the cover of Post Road. I really enjoy her use of color and whimsical shapes.
Events
Melissa Pritchard was our featured reader for this semester at Mesa Center for the Arts.
Fiction
This is our largest submission area, so we did a lot (I mean a lot) of reading. The 10 pieces we chose represent what we felt was the best variety of topic, theme, and form. We tried to find a mix of traditional and experimental stories.
Interviews
We interviewed 10 authors ranging from Roxane Gay to Meg Wolitzer. Our interview process is perhaps the most intense of all the sections. Our two Interview Editors (always undergrads, usually English Lit Majors) carefully read and research each author, composing 20 mostly craft-based questions. Then we spend several weeks doing more research and revisions to the questions. I'm so grateful for all the work that these students do, and to the authors and poets who respond so thoughtfully.
Nonfiction
At AWP this year I got a lot of questions about our nonfiction section. So what is our aesthetic? I would call it lyric, non-linear, and as I said a few times to authors at the conference, "strange." We like an essay to surprise and delight as much as a poem does. We feel the 10 essays in this issue do just that.
Poetry
We get a ton of poetry submissions too, and since we allow four poems per submission, we end up reading thousands of poems during our short 10-week period. For this issue we published work by 20 poets, and as you'll see there's a wide variety of topic, theme, and form.
We hope you will enjoy reading Issue 13 and also that you'll consider submitting to us during our next reading period: September and October 2014.  We will be reading for Issue 14, which will launch on December 4.

---
Article by Patricia Colleen Murphy, Cover Design by Claire Lauer using watercolors by Melinda Hackett
Founding Editor Patricia Colleen Murphy started Superstition Review at Arizona State University in 2008. Each semester she mentors 30-40 students through all the steps of running a literary magazine. Her writing has appeared in many literary journals, including The Iowa Review, Quarterly West, and American Poetry Review. Her writing has received awards from the Associated Writing Programs and the Academy of American Poets, Gulf Coast, Bellevue Literary Review, The Madison Review, Glimmer Train Press, and The Southern California Review. She reviews literary magazines at Lit Mag Lunch and books on Goodreads. A chapter of her memoir in progress was recently published in New Orleans Review.
Design Advisor Claire Lauer teaches courses in visual communication, multimedia composing, and technical communication as an assistant professor in the Multimedia Writing and Technical Communication program at Arizona State University. She is a certified Webmaster and has taught workshops in Web design and writing for the Web.
Melinda Hackett began her career as an artist by becoming an art history major in college. Fascinated with the history of art, she looked at a lot of churches and spent hours in a lot of museums. She worked in art galleries, at magazines and finally had her own gallery in Manhattan's east village in the late 80's-early 90's. She earned her MFA at Parsons/New School in 1996 and joined the ranks of New York City's creative many with shows in many galleries and work in many private and public collections.