Winning poem for the 2011 James Hearst Poetry Prize
"What Her Father Cast"
From the author:
This poem arrived courtesy of a friend's writing prompt. It's been several years now, but to the best of my memory, one of the Madrona Writers (a fabulous writing group based in Port Townsend, WA) came up with an improbable list of directives, including the following: Choose a photo from among a dozen cut from various magazines; include something mechanical, something alive, at least two colors, something you wouldn't want to touch, an emotion, and an animal. I didn't care for the photo I ended up with, and so turned it over to find, on the back, a partial black & white photo of two boys jumping rope in the street—two pairs of lower legs and accompanying shadows on the pavement. So that was my first line. You can probably guess which object was something I didn't want to touch. The rest of the poem emerged from my Alaskan childhood. Although I do not consider myself a poet of place, there's no denying my work is strongly influenced by place. I was raised in a small cottage, in a small town in Southeast Alaska, and came of age in the '70s. It was a tumultuous, unsupervised upbringing, filled with the usual mix of family dysfunction and discovery. "What Her Father Cast" is representative of that time, and is an intimate poem that I hope reaches readers through a shared sense of the experiences that shape us.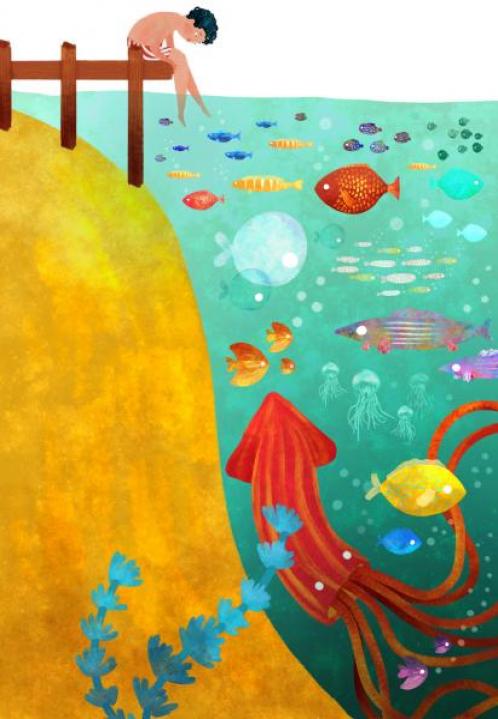 What Her Father Cast
He said stand on your own
two feet and her shadow
swam into a fish
spooled from her reel
at the speed of grayling
He spoke the river's name
Tonsina       shade of a salmon's breath
flaring in the grizzly's mouth
She took off her clothes
to hang from the side of the boat
her legs refused
to fuse into a tail
as planned
Kneel at the river's edge
if the father you love
has been drinking
again      don't fall in
Sea lice cling
to a salmon after death
fall into the fire
when the fish is cooked through
There goes her shadow again
every time it surfaces
she dives
Jenifer Browne Lawrence is the author of One Hundred Steps from Shore . Awards include the Orlando Poetry Prize, the James Hearst Poetry Prize, Potomac Review's Poetry Award, and a Washington State Artist Trust GAP grant. Recent work appears in Los Angeles Review, Narrative, North American Review, Rattle, and elsewhere. Jenifer lives in a small seaside community on Puget Sound, and is co-editor of Crab Creek Review.
Today's artwork is provided by Brianne Burnell, a freelance digital illustrator living and creating from her home studio in Toronto, Canada. Brianne was featured in issue 299.1 of The North American Review.