In celebration of National Poetry Month, the North American Review Blog will be hosting several installments of The Next Big Thing Self-Interview Series, in which writers answer the same nine questions about their forthcoming books or works-in-progress!
This week we are thrilled to bring you an interview from Vince Gotera! What can I say? Vince's work doesn't simply have heart, it is made of heart. It's full of play, intrigue, and a devotion to language's capabilities to display the full spectrum of what poetry has to offer.
Vince Gotera is primarily a poet but also writes fiction, creative nonfiction, and literary criticism. Vince's books include four poetry collections — Dragonfly, Ghost Wars, Fighting Kite, and the forthcoming Pacific Crossing — and a book of literary criticism, Radical Visions: Poetry by Vietnam Veterans. Vince serves as Editor of the North American Review and also Professor of English in the Languages and Literatures department at the University of Northern Iowa.
*
What is the working title of the book?
Pacific Crossing. Not just a working title but the actual forthcoming title.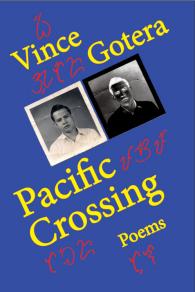 Where did the idea come from for the book?
The idea has been with me for a long time. In fact, my MFA thesis had the same title though this book is very different from that collection. Basically, I've been interested for over 25 years in presenting and dramatizing Filipino American culture via poems.
What genre does your book fall under?
Poetry. There are of course dramatic and narrative elements in it.
What actors would you choose to play the part of your characters in a movie rendition?
My father, who's a recurring character in the book, always said he looked like the actor Dick Haymes. I personally could never see the resemblance but I never said so. In any case, I would like to cast Dick Haymes as my dad. Unfortunately, Dick Haymes has passed away, so other actors, Asian Americans, would be best. How about Dante Basco for when my dad was young and Lou Diamond Phillips for when he's older. I say all this with tongue firmly in cheek of course.
What is the one sentence synopsis of your book?
Filipino and Filipino American life and culture in poems. How's that? Not even a full sentence!
How long did it take you to write the first draft of the manuscript?
I'm not sure how to answer this question. Some of the poems in the book go back to the 1980s. The book itself has gone through many iterations and avatars. So, shall I go to the stock answer and say, "I've been writing this book all my life." That's a cliché but there's a lot of truth in it.
Who or what inspired you to write this book?
Again, not sure how to answer. So many inspirations. My parents — particularly my father who was himself a writer — childhood friends and relatives, the poet and writer Carlos Bulosan, the city of San Francisco. I am dedicating the book to my late editor, Palmer Hall. He was such a great cheerleader of my work, and the work of many others. And he was himself a wonderful writer. So there's my inspiration: Dr. Palmer Hall.
What else about your book might pique the reader's interest?
Monsters, gambling, the Marcos family — Ferdinand, Imelda, and Bongbong! — creation stories, war, and angels. What more could one ask for?
Will your book be self-published or represented by an agency?
It's forthcoming from Pecan Grove Press.
*
Thanks to poets Jason Bradford and Rachel Morgan for tagging me for The Next Big Thing series. Rachel tagged me last week and Jason tagged me quite a few weeks ago. Sorry for the delay, Jason, but here I am finally!
In turn, I would like to tag Jeremy Schraffenberger and Brandi Homan. They'll be The Next Big Thing sometime soon.