Thirty years ago, I attended a poetry workshop with Stephen Sandy, who at the time was a fairly well-known poet, a professor at Bennington College. He was kind, generous, supportive, and encouraging. He always had at hand some lines from an important poet to illustrate his points—a couplet from Wallace Stevens, a particularly extravagant line from Robert Lowell, an unexpected dramatic move from Adrienne Rich. Responding to one workshop participant's unmemorable poem about watching her teenage son throw a well-packed snowball at his younger sister who was mocking him, Sandy slyly pulled out of his briefcase a translation of an ode by the Roman poet Horace, the one that begins with the snows on Mount Soracte. Despite the bitter freezing weather, Horace is content sitting by the roaring fire, sipping Sabine wine, leaving the gods to tend to the vicissitudes of life. That is until Horace catches sight of two teenagers braving the elements. He hears giggles and then he ends the ode with the boy snatching something from the girl's finger (most likely her glove) while she "almost resists." Sandy stressed the concreteness of the language, its dramatic intensity, as well as its ambiguity. No one in the workshop questioned the appropriateness of the image. All agreed with his characterization—after all, Horace mentions "giveaway giggles" in the line before, though it's not completely clear why this particular couple (or the teenage girl) is laughing and if it's her, then is that giggle nervous or anxious. Still, Sandy's recitation of the poem was a hit, and his focus on the aptness of the final image was so convincing, I sought out this ode (in translation) as soon as I could get to the library.
          Soon, however, I felt compelled to come up with my own translation, but since I don't know Latin, I found a few translations, compared them, pared some of the off-putting names of friends and goddesses, transported it into my contemporary world, and came up with what I labeled a "version" of the Horace's Ode that I felt was faithful to the spirit of the original—and also felt like a good, stand-alone poem. I must admit that I did struggle with the poem's ending—that image so extolled by Sandy. In all the literal translations I looked at, there were two young people standing out in the cold, most likely shivering but there for some purpose—to get away from parents or other over-zealous adults or guardians. After all Horace does say that they were lovers. And the boy snatches something from her hand, variously translated as a "prize" or "gift," and the girl "resists" or "rebels," although all the translations I looked at characterized that rebellion or resistance to the boy's act as partial, or half-hearted. My version took things a bit further by stating that the act followed some teasing banter and that what he snatched was her glove, removing it from her hand: 
Observe…
how mocking words lead to sweet ambush,
how quick he slips the glove from her small hand,
and how her fingers curl in half-protest.
I cringe now, when I read my thirty-year old poem. Others do more than cringe.
          Recently, a poet-friend, Kerry Shawn Keys, posted on social media (Facebook) his own adaptation of the Horatian Ode from Book 1, #9, but his version left out the final image altogether. He ends with the poet (Horace/him) lighting up a "Lucky Strike, joining hands with the ghosts." Of course, Keys' poem was a hit, receiving praise from all quarters. I praised it too, but questioned why he left out the ending—the one so appreciated and unanimously adored by Stephan Sandy and his workshop. And of course, since this all took place on social media (Facebook), a woman immediately responded, taking me to task, posting: "MeToo! HALF-PROTEST is not CONSENT!" Of course, I should have seen this coming and should never have raised the question. Moreover, I probably should have disavowed my own version of Horace's poem--if not actually erasing it from my hard-drive, then hiding it in some inactive folder. (Impossible, since it did appear online fifteen or so years ago.) Her comment was absolutely right—Horace appeared to be sanctioning sexual misconduct, and I was complicit.
            It would seem simple and straightforward. And yet, in my version, and likewise in many translations, the poet-translator is making decisions that stem from his or her own circumstances, understanding of language, as well as the language and terminology (and ideology) of the cultural moment. For example, as Emily Wilson, the first female translator of Homer's Odyssey points out, translation is gendered. She directs us to the passage near the end of the epic, where Oddyseus' son, Telemachus, oversees the brutal hanging of the young women who were forced to have sex with the suitors of Penelope (after he made them clean up the bloody mess from their slaugher). One well-known male translator (Robert Fagles) refers to these women as "sluts." Wilson explains that "slut" never appears in the original Greek, and that they are clearly slaves who had no choice in the matter. It makes one wonder about this translator's attitudes towards victims of rape and sexual abuse. Was he projecting something into the text based on what he believed about ancient Greek attitudes towards women?  Was he injecting his own blame-the-victim misogynistic views?
            Of course, we shouldn't be surprised that a translator might view a text though his or her own particular lens. When I was working on my translation of the 19th century, Polish Romantic epic, Pan Tadeusz, by Adam Mickiewicz, several times I manipulated the language to suggest allusions to writings that came a century after the poem was composed—in my case, a handful of Dylan lyrics and as well as a couple of nods to James Wright. Likewise, when I was working on my translations of the 16th century poet, Jan Kochanowski's laments over the death of his very young daughter, I was clearly incorporating feelings about my wife's miscarriage.
            When I was working on this poem—this version of a 1st BC century Roman ode--I was living in a declining neighborhood in the river wards of Philadelphia. It was overwhelmingly white and the many factories and mills that had once provided the Irish, German, and Polish immigrants with jobs and housing had shut down two decades ago. The commercial buildings were either boarded up or had metal grates over the display windows. On warm evenings, I would sit on the concrete porch stoop of my row house (quaintly called "workingman's Victorians") and observe the goings-on. Teenage boys were always there, hanging out on the corner, their boomboxes blasting Led Zeppelin or the Doors, and there were also teenage girls who seemed to intentionally wander by and join them. Invariably one of the girls would say something crude or nasty to the guys, who would then move in and grab them roughly from behind. The girls, for their part, tried to push them away, swinging their elbows, as the boys caught their arms and attempted to impose something like a half-nelson on them. However, instead of yelling back or screaming or kicking, the girls laughed and giggled as though the assault was nothing more than a tickling match. Soon, they were hugging and kissing and the boys arms would begin to creep over to her breasts or ass. It was at this point, however, that the girl would manage to break free, though the boy usually managed to snatch something from her—a hat, a purse, a bottle of soda. She would then either walk away defiantly or re-enact the same scene. This behavior baffled me, so I asked my wife, who had grown up in that same neighborhood, about the almost violent physicality at play. She explained that this was simply their way of flirting. No one (at the time, at least) viewed it in terms of sexual harassment, misconduct, or assault.
          I'm pretty sure that if I were to re-translate (or re-imitate) this poem or any similar poem, I would deal with the ending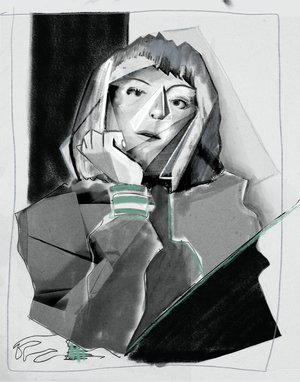 differently, though I'm not sure how. Perhaps I would tinker with the image, change or include words that provide context--have the teen-age boy rip the glove from her hand instead of slipping it off? Have her give the guy the finger instead of having that finger curl in half-protest? Both actions were certainly plausible,  and I might have observed them from my porch stoop. I think that such a scene would still be appropriately Horation.
        I realize that I've been conflating translation with imitation (or version, variation, after, rendering, approximations adaption), but these poetic approaches are not so very different from each other. And, if anything, the entire discussion makes it clear that whatever we label them, we need many. Every generation, more and more, realizing we will never get it right.
………………………………………………………………………………………..
Sources
Emily Wilson: "On Gender and Being the First Woman to Translate Homer's Odyssey into English," 
Leonard Kress, "After Horace," on Verse Daily