I lived for years on Minnesota's Iron Range, where I worked as a miner as well as at other trades. One of the scenes that sticks most clearly in my mind is the pit of the Rocheleau Mine. It was a brooding presence, a yawning pit that had been shut down long before my arrival on The Range. I saw it often, though through a chain-link fence, as I walked to the end of the main downtown street of Virginia, a small town, and certainly small in relation to the mine.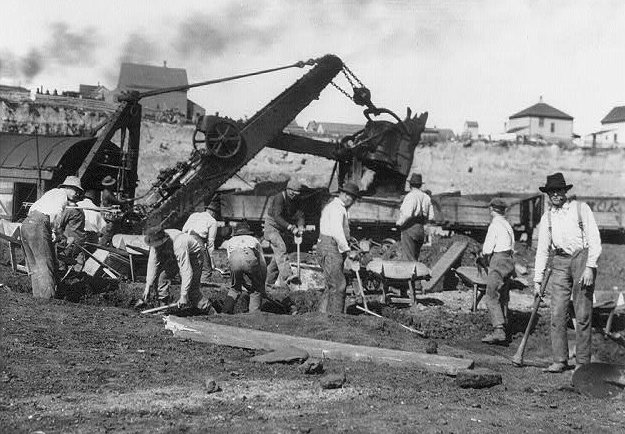 The Rocheleau Mine was desolate in a breathtaking way, a hole in the earth three miles long and 450 feet deep. In winter the whiteness of the snow was dizzying, covering terraces and lakes of ice at the foot of sheer cliffs. Trees with sagging branches decked the far side, seemingly light-years away. On a typical winter day when the temperature might not climb above zero, time itself seemed to have frozen.
I remember how such winter scenes produced a contradictory impression. On the one hand, the steady snowfall, the relentless flake-by-flake accumulation, reminded me of the passage of time, the massing of it, second by second, year by year; but the end result was that of a pure and traceless timelessness, a total burial of the remembered landscape.
Over the years, thousands of miners had gathered in that now-abandoned pit, clowned and joked while waiting for the day to begin, stared bleary-eyed at towering equipment, and performed the hard and dirty work of their shifts. Desolate as it is now, this mine had once felt the warmth of human life and labor.
Humanity had toiled for the better part of a century in the Rocheleau Mine, but the sharply human sounds of the miners had been silenced. Some events that occurred there could not be recalled with any fondness: The blacklisting of the Finns and others for their pro-union views; the dictatorship of the mine bosses; the maiming, the countless preventable deaths. These are not the only crimes that have occurred on The Range. At the Eleventh Mine, one of those in which I worked, a vicious anti-woman culture prevailed. For more than a century, however, many women and men had stood their ground on The Range. Whether their acts of resistance were small or large, they required courage.
I began writing my poem as a meditation on the miners of the Rocheleau Mine, who would have been submerged, while still living, by the "shift after shift" of their lives. They were once young, full of life, until time passed over them in a blizzard of events that was at first slow, unending tedious, then accumulating with blinding speed. Now they were phantoms at the bottom of this pit.
I concluded the poem by placing myself beside these long-dead miners, "working beside them, tiny and cold." I wanted to see from their vantage the lovely sorrow of time's passage, "shift after shift."
My original reason for writing it was to remember my friend Stu Singer, who died in 2012. Stu had been working as a miner when I arrived on The Range in 1979. But the images I came up with did not move in Stu's direction. They were steeped in sadness, whereas what I learned from Stu was confidence, that I could survive the work of the mines, survive and even enjoy the long North Country winters. And that what we did there was important. Stu's remarkable quality was that he could instill confidence that we could do those necessary things, things we had not thought ourselves capable of. My poem did not furnish an appropriate place for such a memorial note. But here it is: To Stu Singer, friend of many winters, comrade of many struggles.
David Salner's latest book is Working Here (Rooster Hill Press, 2010). His writing appears in many journals. He worked for 25 years as an iron ore miner, steelworker, and general laborer. David appears in issue 299.2, Spring 2014.
Photo by: Frances Benjamin Johnston (1864-1952)