North American Review has kindly invited me to say hello.  About me:  I'm so happy you're there. I write because something is fascinating and there is often no one sitting across the room to tell.  I also work at a performing arts center, and recently I've had the joy of meeting two inspiring people. I hope you don't mind if I talk to them as well.
In my upcoming piece "Spinning," my daughter asks me to watch her a little bit more than everyone else.  We all yearn to be seen; children find it a simple request.  At a recent show we were attending she also wanted me to see her:  see her as too tired to comply when asked to go on stage with other kids from the crowd. I acknowledged, I overruled, and I sent her to stand next to you, Peter Yarrow, and sing "Puff the Magic Dragon."  
Although she knew all the words I later had to explain the nature of sealing wax and why it is fancy.  Sometimes words are weighty and want to be a pristine present. 
Speaking before the show, Peter, you said you feel your work is more needed today than ever before.  To receive the gift of words in songs we sing together, to feel the collective joy and simple sameness when everyone is reduced to vibrating vocal chords—this is what I didn't want my daughter to miss, and she was so happy to have shared it with you.  I didn't send her on stage to stand out, but to opt in.  Thank you, Peter, for the community created by your music.  We do need you.
I sing off tune.  My alignment with any universal broadcast is through dance, and in my essay I'm searching for the root of my own compulsion to move. 
When grasses blow together on the prairie they tell a mesmerizing tale, not unlike separate humans moving as a mass at a concert, swaying fingers tipped with lights.  We share rhythm and range, our humanity is the wind.
Dear Ira Glass, I had the pleasure of both meeting you and hearing you speak.  The meeting part: I said something inane, you said something genuine, I let you down again, and you moved on.  I say that part was a pleasure only because it turns out you have a beautiful smile.  For an icon whose work I cherish and a person who has made most of his impact on the world as a disembodied voice—you are stunningly good-looking in person. That charming fact made my own stupidity irrelevant.  You stood before me as a shining ambassador for all the awkward brilliant folks I know and all my radio friends who never leave the production studio.  You can represent.
The speaking part: you revealed how you see your work and a bit of how you see yourself. Then I realized my gaffe.  As the person who does the marketing for the theatre, I'd written all the ad copy.  To me, Ira Glass is an amazing storyteller.  When I give my consciousness over to a stream of Ira Glass, I'm "buying" everyday wonder. So, of course that is what I was selling, via tickets, to everyone else.  I was so sure of this "fact" that I never even challenged it and put it straight to print.  Just shy of fourteen hundred people came to see this "storyteller."  I'm sorry for the erroneous billing, Ira.  You are, of course, a journalist. You are just so unbelievably good at editing big truths into small places that it feels like a story.  Dangerous and disrespectful oversight on my part.
So Ira, it's 2 you, 0 me (if we include my failure at meet and greets).  But here's the thing.  You said, in answer to a question from the crowd, that one of the things you've learned is that you can't change the world.  You were referring to a linear equation:  finding the facts + exposing the story = meaningful change in that specific circumstance.  I'm sorry you've experienced the truth playing out as irrelevant.  Heroically turning the story over to the press is the happy ending of many '80s movies; there are a lot of us that believe that equation should work.  But you can't tell me that you can pick a new common thread out of all those human stories to make a three point turn around an intangible subject that you have now defined . . . for each broadcast . . . yet you can't process that you're changing the world?
I can only speak for myself.  It's one-off things you've chosen to mention.  Several years ago it was the terrifying information that "what you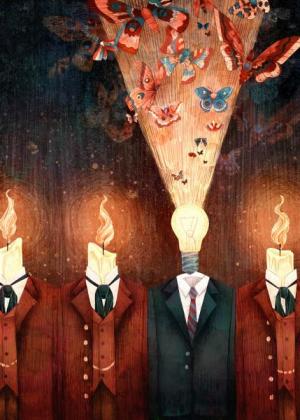 are doing when you are age 12 or 13 defines your passions for your life."  This gave me permission to find my adolescent hobbies again to tremendous success, and I've been teaching one of them for almost 10 years to a population that wouldn't have otherwise had classes.  Another was just a funny example of how children draw what would be accurate conclusions if not for incomplete data:  a child assuming the people in a plane get smaller as it flies away.  That specific example of an innocently uninformed thought has influenced my leadership from parenting to personnel issues.
You said something along the lines of fearing our political climate, and I share that. The future of agenda-setting and access to accurate information to inform a populace are dire concerns; I'll add that how we see ourselves is also getting in the way.  We began aligning ourselves with brands instead of ideas thirty or so years ago when we became Coke people or Pepsi people--people passionately defined by our choice of beer or coffee or car.  With no forced need for community we enjoy autonomy, but we respond to a biological need to know which herd to swarm within in case of attack by building artificial classifications of human species and filing ourselves and everyone else neatly within.  Now we're seeing our extreme addiction to the perceived simplicity of separateness: the need for the annihilation of the other side of an argument rather than an acceptance of the complexity of multiple truths.
You said there is no hope until there is a change of culture that changes politics.  Wouldn't it be wonderful if there were someone presenting the reality of multiple truths, straight from the mouths of people who comprise it? Someone inspiring people to find their idealistic childhood self and share it? Wouldn't it be wonderful if there were a cultural force teaching that when someone seems short-sighted the most powerful thing you can do is respect them (as a well-meaning, thoughtful small child watching an airplane), and then gift them information instead of the simplicity of your judgment? 
Watching you happily fall into the groove of your work on stage, I was enthralled by your talent.  When you talked about yourself, I felt a little like you were the boy at the airport. So here is some framing information for you on behalf of millions of people:  it is wonderful to have you out there changing the world. And like the guy in the balcony, I would be super happy to take you hiking the next time you're in town.
But overall, to you, Ira, and you, dear, huge-hearted Peter, and you, engaged readers:  thank you for doing what you do instead of opting to take a nap. Momentum is magical, and I'm seeking its various forms in my upcoming essay.