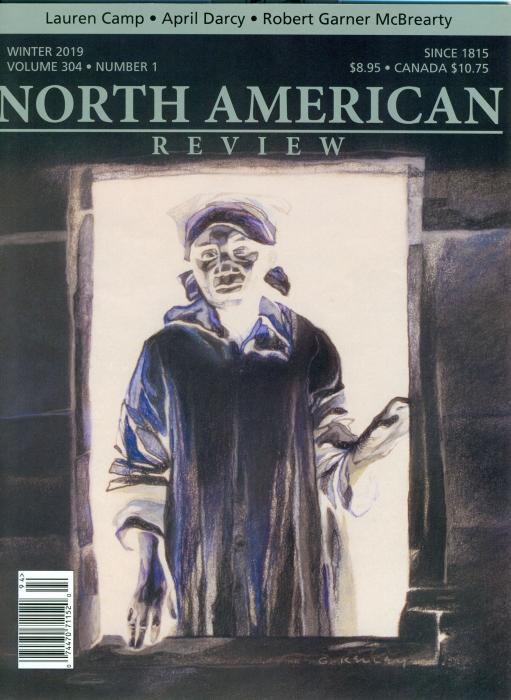 Buy this Issue
Never miss
a thing.
Subscribe
today.
We publish all 
forms of creativity.  
We like stories that start quickly 
and have a strong narrative.
We appreciate when an essay 
moves beyond the personal to 
tell us something new about 
the world.

Subscribe
The photographer Doris Ulmann wrote of her subjects, "a face that has the marks of having lived intensely, that expresses some phase of life, some dominant quality or intellectual power, constitutes for me an interesting face." Gary Kelley's gorgeous cover is inspired by her photography, and the issue is itself made up of essays, stories, and poetry outpouring from lives lived intensely. Natalie Sears writes about the intensity of intimacy and its aftermath in her short story "Waiting for Andy." In "Dredging Up Wanderlust," a finalist for the Torch Prize in nonfiction, April Darcy travels to Hawaii with her fierce, inconsolable mother, and they teach one another how to grieve. Brittani Sonnenberg gifts us with two playful homage-poems to Hercule Poirot. Poets Natalie Solmer and Conor Scruton turn away from winter, reminding us that spring will be here soon, in "The Florist Thinks" and "Planting," respectively. Let these interesting faces keep you company through the long Iowa winter.
Fiction by: Robert Garner McBrearty • Warren Jones • Natalie Sears • Sean Towey
Nonfiction by: Nell Boeschenstein • April Darcy • Peggy Schimmelman
Poetry by: Allison Adair • Erica Lee Braverman • Lauren Camp • Peter Neil Carroll • Michael Chitwood • Patricia Clark • Marsha de la O • Luiza Flynn-Goodlett • Rodney Gomez • Joseph Harms • Andrew Hemmert • J. D. Ho • Vicki Iorio • Madison Jones • Greg Larson • Jennie Malboeuf • Damon McLaughlin • Jessica Morey-Collins • Jeff Newberry • Dayna Patterson •​ Alison Prine • Katie Prince • Mira Rosenthal • Conor Scruton • Carrie Shipers • Todd Smith • Natalie Solmer • Brittani Sonnenberg • Michael Spence • Gary J. Whitehead
Art by: Catherine Byun • Matt Manley • Gary Kelley • Clay Rodery • Anthony Tremmaglia
ART
Cover   Outside Looking In (inspired by the depression-era photography of Doris Ulmann) [mixed media]​ • Gary Kelley
13   Cold Night in Waterloo [digital] • Clay Rodery
21   untitled [charcoal, photograph digital composite] • Anthony Tremmaglia
25   Waiting for Andy [ink & digital] • Catherine Byun
35   Liars [digital mixed media] • Matt Manley
FICTION
13   Cold Night in Waterloo • Robert Garner McBrearty 
21   Two Tiny Pearls • Warren Jones
25   Waiting for Andy • Natalie Sears
35   Buyers Are Liars • Sean Towey
NONFICTION
3   Dredging Up Wanderlust • April Darcy
41   A Not So Fine Line • Peggy Schimmelman
45   Or Maybe • Nell Boeschenstein
POETRY
9   Avian Confessional • Greg Larson
9   Lastronaut • Michael Spence
10   Self-Portrait as Coyolxauhqui • Rodney Gomez
10   Essay on Granite • David Koehn
11   Instructions for the Last Breath • Rodney Gomez
11   A Fever Of • Luiza Flynn-Goodlett
12   poem in a cold war hellscape • Katie Prince
12   Birthday Dinner • Patricia Clark
12   Love Letters • Damon McLaughlin
16   Immigrant Alembic • Mira Rosenthal
17   My dead husband • Carrie Shipers
18   Whale Fall • Allison Adair
19   Commute • Allison Adair
19   Sanctuary • Peter Neil Carroll
20   Sunfall with Bat House • Madison Jones
20   2525 • J.D. Ho
22   Where the Sunflowers Grew • Lauren Camp
23   A Keeper • Vicki Iorio
23   Angus in Rain • Michael Chitwood
24   And Your Heart Will Race • Erica Lee Braverman
24   Llama Berserk Syndrome • Dayna Patterson
32   Origin • Marsha de la O
33   Thomas Merton's Final Cleansing • Jeff Newberry
33   [gifts] • Jessica Morey-Collins
34   Nephelometry • Joseph Harms
34   Honest Signals • Jennie Malboeuf
40   Poirot 1 • Brittani Sonnenberg
40   Poirot 2 • Brittani Sonnenberg
42   Trace • Alison Prine
42   Horace, I Dream of Watches • Gary J. Whitehead
43   On the Disappearance of the Florida Panther • Andrew Hemmert
43   The Past • Todd Smith
44   Planting • Conor Scruton
44   The Florist Thinks • Natalie Solmer
 
REVIEWS
46   Synecdoche: Brief Book Reviews • Rachel Morgan
47   Crosscuts: Brief DVD Reviews • Grant Tracey
MISCELLANY
2   From the Editors
48   Contributors