Introduction to Every Atom by project curator Brian Clements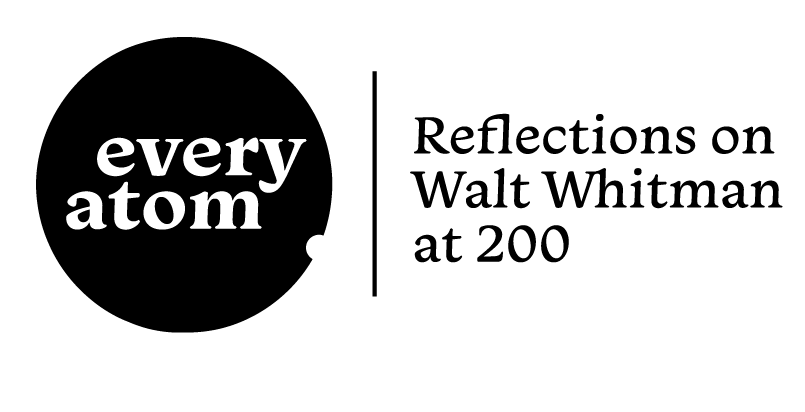 I lean and loafe at my ease.... observing a spear of summer grass
Have you reckoned a thousand acres much? Have you reckoned the earth much?
Have you practiced so long to learn to read?
Have you felt so proud to get at the meaning of poems?
What continues to astonish me is how Whitman's poem enacts, essentially, a long thought experiment that imagines a world, our world, without a sense of shame to hem us in, to make us suspicious of one another, to hate ourselves, to be disgusted by our very bodies, to see the world as a source of temptation to sin. Audaciously, the poem begins with a bit of pride ("I celebrate myself"), a pride that he then extends to the reader, "What I assume, you shall assume."  While that always has felt like a bond, a contract between reader and the singer of the poem, it has also struck me as funny that he assumes that assuming. It would be nice, Walt, if you maybe asked first. Maybe we can't get there alone, which seems true of the poem, or of any poem.
The next stanza of the poem moves to another sin: sloth. Yet, from that "loafing" we get one of the most important texts ever written in English. Indeed, within the frame of poem, the observation (call it a meditation) of just one blade of grass sprawls out and becomes this lyric poem of epic sweep. By extension, then, he could pick up another blade of grass and get another poem of such length.  Now imagine each blade of grass in your backyard, every spear in Central Park, every blade in the state of New York. Now imagine that each of us took every blade of grass and wrote a poem. What would we have? Arguably we would have just a beginning of a map of everything and everyone. And that's just the grass. What would be move to next? It beggars the imagination, which is the point. "Have we gotten at the meaning of poems?" Clearly, there is so much more to see. We don't ever come to the end of reading—whether that be poems or the very stuff of the ordinary, of the unendingly sublime, world.