Introduction to Every Atom by project curator Brian Clements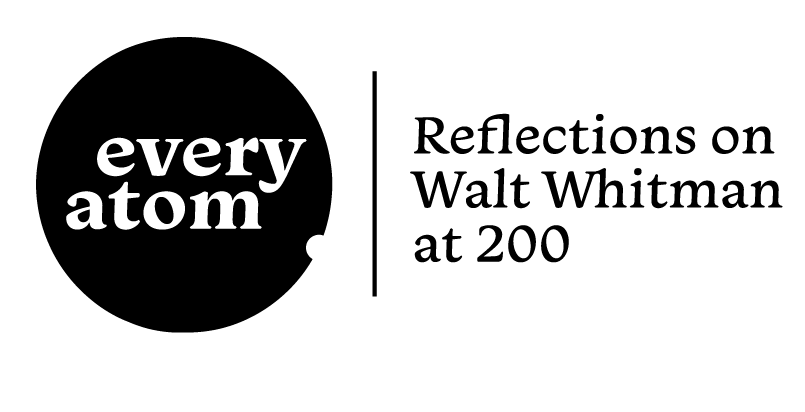 I am large… I contain multitudes.
"Song of Myself" famously contains the remark: "I am large... I contain multitudes." What that line means depends on one's conditions and circumstances. Here's what it means to me.
"Crossing Brooklyn Ferry" (originally published in 1856) is a poem of transport about and for multitudes. It has been for generations of readers; so it has been for me. It takes me back to one of my earliest childhood memories. On Sunday afternoons, my parents would slide the children into the back seat of the family De Soto, drive the few blocks to the Perth Amboy ferry slip, and cross onto the Staten Island Ferry for the float across the Arthur Kill. That ferry slip, I imagined in adolescence, must have marked the East Jersey landing of the teenage runaway Ben Franklin during his self-mythologizing journey from Boston to Philadelphia.
These days, Whitman's Fulton Ferry is my ferry of choice, and not just because of my landlocked residence. It is a living, breathing presence, a source of revitalization in a time of anxiety. Greg Grandin's provocative new book, The End of the Myth, proposes that the twenty-first-century WALL has replaced the nineteenth-century frontier as the reigning symbol of the American mind. This may be so for a diachronic reading of US history, but it fails to sound the deep reaches of "Crossing Brooklyn Ferry," whose poetics of connectivity trump the paranoid politics of siege.
"Our country is FULL," tweets the President. Our country is alive and electric, a blaze of colors and a flash of motive power, indites the poet. Whitman's poem leaps battlements and barriers, bypasses fixities. It invites readers to share passage in a voyage across time and space:
Crowds of men and women attired in the usual costumes, how curious you are to me!
On the ferry-boats the hundreds and hundreds that cross, returning home, are more curious to me than you suppose,
And you that shall cross from shore to shore years hence are more to me, and more in my meditations, than you might suppose.
Whitman's Brooklyn Ferry shuttled across an America experiencing a high tide of immigration, as hundreds of thousands of midcentury European and Asian migrants crossed Atlantic and Pacific shores seeking refuge from famine, prejudice, discrimination, and armed conflict – an enormous infusion of humanity that kicked up a reverse tide of nativist resentment and racist antipathy. The persona in "Song of Myself" boasted, "I contain multitudes," but the nation had doubts, then as now, about its absorptive capacity.
Whitman too harbored deep doubts, the "dark patches" of this poem – about alien peoples, material excess, even his personal capacity to connect with his fellows. But in the writing of "Crossing Brooklyn Ferry," the distillation of his day-in, day-out shuttling between Brooklyn and Manhattan, he found the grounding of a deeper faith in democratic inclusion and open mobility, a communicative faith that retains its power to inspire:
Flow on, river! Flow with the flood-tide, and ebb with the ebb-tide!
Frolic on, crested and scallop-edg'd waves!
Gorgeous clouds of the sun-set, drench with your splendor me, or the men and women generations after me!
Cross from shore to shore, countless crowds of passengers!
So they crossed in Whitman's time, and so they continue in ours.