Introduction to Every Atom by project curator Brian Clements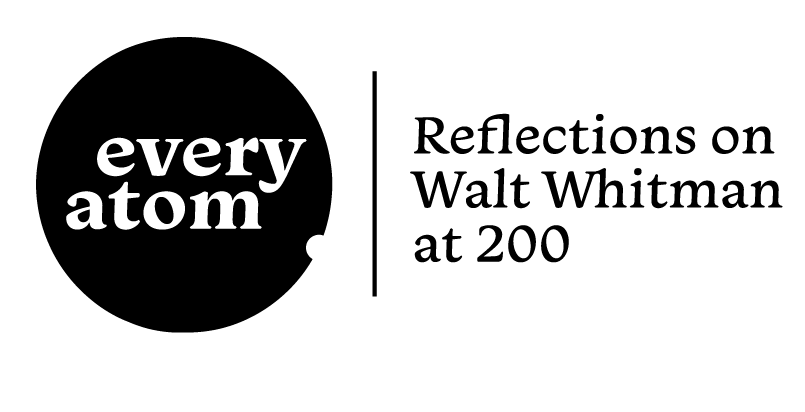 One summer, teaching poetry in an enrichment program for gifted youth, I introduced my class to "Song of Myself". None of the children were older than fifteen, a few were twelve—these were precocious high school kids. We sat in a circle: the kids, my early-twenty-something teaching assistant, and me—I couldn't have been older than twenty-five. Each of us read a section out loud. It took the whole morning. By the time we were finished, the spirit of truly original American poetry had permeated that room.
When we arrived at this section, the whole group sat up and paid a new kind of attention:
Twenty-eight young men bathe by the shore;
Twenty-eight young men, and all so friendly:
Twenty-eight years of womanly life, and all so lonesome.
She owns the fine house by the rise of the bank;
She hides, handsome and richly drest, aft the blinds of the window.
The young men and women in that classroom were growing into their own bodies. Was Whitman writing about the mixture of desire, shame, pleasure, excitement, and reticence they understood so well? Yes, he was!
Where are you off to, lady? for I see you;
You splash in the water there, yet stay stock still in your room.
In words that bounced off the boundaries of our classroom, Whitman wrote about sex, the body, longing, and release in a way they wholly recognized. Sure, they all giggled. For the days we remained together that summer, there were jokes about the twenty-ninth bather. Those jokes happened because, in those lines from "Song of Myself", the students felt seen. Their bodies, their selves, were inscribed in Whitman's world.
That TA is now an Associate Professor at a top-notch university, but I still sometimes call her TA Tara. For reasons only the spirit of truly original American poetry can explain, she texted me the morning I began to work on this piece.
Me: I would call right now but I'm up against a deadline to write about "Song of Myself". I think I'm going to write about making a room of 12 year olds read the whole thing out loud on a summer morning.
TA Tara: If it's useful, here's a true thing: I have no idea what the exercise did for those kids, since we can't ask them. But it changed the poem for me forever. It opened up something in me or it that had always been closed and tired, and through it over time the rest of Whitman. So that I always teach him now given the opportunity. I was at the absolute beginning of my teaching career. I didn't even know I was going to have a teaching career. I was a baby copy queen. So whatever happened to those poor 12-year-olds, I've had 20 years of undergrads who were affected by the experience.
Whitman's words at work in the world—touching people, changing people, giving pleasure to people the words themselves will never see:
They do not know who puffs and declines with pendant and bending arch;
They do not think whom they souse with spray.