"Zen Amen" comes from an eighteen-month period during which I wrote seventy-two Abecedariums & Double Abecedariums, all in a metaphysical / occult vein. It was the first one I did, and with fantastic beginner's luck, it ended up as a finalist in the 2007 Hearst Competition.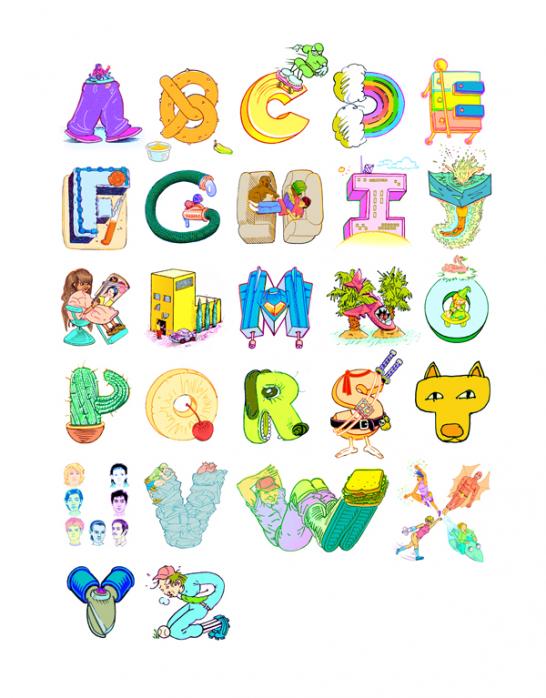 The first half of that time period I wrote regular Abecedariums, ten syllables per line, where the only constraint was starting the first line with "a", the second line with "b", and so one. Or in the case of a Reverse Abecedarium, starting the first line with "z", etc.
After a while, I gave myself leeway for fudging, softening the rules to let "cue" stand in for "Q".
During the second half of my alphabet binge, I wrote Double Abecedariums (see my poem Mineral Kingdom--which received an HM in the 2010 Hearst Contest--in NAR's blog for 16 Jan. 2015). With doubles, an added constraint is the last letter (or sound, or similar cheat, like "jay" or "queue" for lines ending in j or q) also must follow the pattern. The problem comes in when you realize that we have words memorized by their first, not last, letters. When was the last time you thought of four words ending with j? After writing a couple of these, I realized that l needed a reverse dictionary. No such thing existed in 2007 (and maybe still doesn't), so I had to make one. I found a website where you could type in a number of blanks with a designated letter, such as ???z, and it would spit out a list of all possible combinations of four letters with z as the last. Not all of these were words, of course, so later on I'd highlight the actual words. For maybe half an hour a night at work, on break from my janitor job at a small rural elementary school, I'd enter word parameters and print the pages, and after a few weeks I had a 3-ring binder of word lists. I wrote thirty plus Double Abecedariums during a nine-month period. Some were awful. Many were disjointed / fragmentary. About a half dozen were keepers, and three of these were finalists in Hearst contests 2008-2010,
Working the form taught me to trust taking greater conceptual leaps in my poems. You really have to jump from rock to rock in these, packing a lot in each line, with all the different bases you need to hit in short spaces.
At the time I was writing these, I was working four hours each evening as a janitor in a small rural elementary school, a job intentionally chosen for its low mental stress. The rest of my my day was writing / revising / reviewing / etc…all the bureaucracy that attends writing. After that year and a half period of writing pretty much nothing but Abecedariums and Double Abecedariums, I found myself surprised to be decompressing from the mental stress of a prolonged period of intense creative activity.
I learned about the form from a friend and mentor, Karl Elder, at Lakeland College, Sheboygan, WI. We shared a chapbook publisher, Marsh River Editions. His chapbook of Abecedariums got me going down a pleasantly-obsessive road, resulting in a some poems I never would have written otherwise.
---
Since 2007, Michael Kriesel has become President of the Wisconsin Fellowship of Poets, won the 2012 Wisconsin Fellowship of Poets Triad Award, and the 2011 Wisconsin People & Ideas Poetry Contest. He judged the 2014 Wisconsin Writers Association Jade Ring Poetry Competition. He was featured poet for the 2010 Great Lakes Writers Festival. His latest chapbook (2013) is Whale of Stars (letterpress / haiku) from Sunnyoutside. He has a poem in the highly-entertaining anthology Drawn to Marvel: Poems from the Comic Books Minor Arcana Press 2014. His book ms. Forgiving the Grass was a finalist in the 2014 ABZ 1st Book contest. Micheal will also be featured in issue 300.2 as the 2015 James Hearst Poetry Prize Winner. Michael Kriesel was last featured in Issue 300.2, Spring 2015
Top Illustration: Brianne Burnell. Brianne Burnell is a freelance digital illustrator living and creating from her home studio in Toronto, Canada. Check out more of her artwork here.
Bottom Illustration: Darren Ragle. Darren Ragle is a Sacramento based artist and illustrator. His work is influenced by psychedelic poster artists of the 60s, comics, and American illustrators of the 20th century. His illustrations have been published by LA Record and the Playboy Jazz Festival. He created a graphic novel about earthquake preparedness for the City of Los Angeles. He has designed fine art prints for Jonathan Adler, Fab.com, Timothy Oulton, One Kings Lane, and Anthropologie. Check out more of his artwork here.