Bullets into Bells: Poets & Citizens Respond to Gun Violence. Edited by Brian Clements, Alexandra Teague, and Dean Rader. Boston: Beacon Press, 2017. 179 pp.
What is the point of poetry when children are dying, everyday, of gunshot wounds? What is the point of poetry when the police hunt black men? What good can a word do for the suicide, the hate-crime victim, the student gunned down in her grammar-school classroom, the too-curious friend who found the glass-cased gun cabinet unlocked? The answer might very well be: nothing.
And yet, the editors and poets Brian Clements (whose wife, a teacher, survived the Sandy Hook shooting), Alexandra Teague, and Dean Rader have put together an extraordinary, raw collection, introduced by Colum McCann, called Bullets into Bells: Poets & Citizens Respond to Gun Violence, a brilliantly conceived effort that spends the entirety of its 171 pages staring the question—what is the point of poetry?—in the face.
It's a wrenching reckoning. Each of the 54 poems is paired with a response by an activist (many of them survivors of the very shooting mentioned in the preceding poem), politician, or community leader, and one of the collection's great strengths is that it is democratically polyvocal. You'll find the work of famous poets, like Ocean Vuong, Billy Collins, or Natasha Trethewey, rubbing shoulders with that of newcomers, like Nick Arnold, whose hip-hop flavored lines, penned in remembrance of his cousin, Jordan—
Now snatch every dream that a mother had for her son
And replace that with a breath, "Baby, just take another one!"
—open the book. MFA-bred experiments in form and image and sound share space with rhyming couplets and classical construction, as well as the well-polished prose of the political stump speech. Though there is some slight effort to include work from Second Amendment apologists—Lieutenant Brian Thiem, a retired Oakland Police Officer, offers the "guns don't kill people, people kill people" take—as well as a smattering of poems that acknowledge the sensual pleasure that can come with handling a firearm, this is not a both-sides-of-the-issue kind of book. It is, instead, overwhelming in its mosaic of grief, loss, fear, and anger.
Or rather, it's overwhelming in its periodic expression of grief, loss, fear, and anger. As I read each poem, I felt my eyes flooded by a tide of tears, which receded with each response. It's not that the responses are badly written—they're not; nor are they unsophisticated, or disingenuous, or dull. It's that most are functional, using language as a means to an end: pleas for specific, tangible actions or policy statements, or else calls to action, and they operate on a different emotional register, too. Most give voice to hope or resolve or solidarity, and many a reader will find them reassuring in their proaction. Above all, the responses have a faith in the political, which is to say in the power of a collective, working within the rule of law, to peacefully influence the state. Poetry, in this vision, is one more way to affectively get the message across.
But many of the poems tell otherwise, gambling with senselessness, like Jimmy Santiago Baca's Morning Shooting, where an unnamed Mexican laborer, on his way to work, has his kneecaps blown off by shotgun-toting racists:
a day when angels fall from heaven,
a day when wounds open in unborn hearts,
a day when blessings from the lips of pastors
are sins upon us all,
a day of all-out launching of racism,
a day when Christ went into hiding.
The long night begins.
These are dangerous poems; their pain and anger and confusion refuses to remain impounded by the channels of polite thought and prayer or the hand-wringing call to one's representative. These are dangerous poems because they are human—wild in their grief, and unpredictable. "in[DM1]  the backseat of my car are my own sons" begins Reginald Dwayne Betts's "When I Think of Tamir Rice While Driving," a poem of imagined revenge—
a killer's body mangled and disrupted by bullets
because his mind would not accept the narrative
of your child's dignity, of his right to life, of his humanity,
and the crystalline brilliance you saw when your boys first
     breathed
—whose line break, leaving breathed all alone, perfectly evokes the awe and helplessness and strangling anger that I feel rising in my own throat whenever I think of twelve-year-old Rice playing, and then dying, on a park bench.
There's no way forward in Betts's poem, only the present; only the writer, and his audience, and a body, and a bullet, and a pen—all of them only words.
This is not nothing; it is human solidarity in defiant verse. We write because we are alive. We write as long as we're alive. We write because life is worth living.
Ours may be a country that values the power and the pleasure and the profit of killing over the right to live out one's own life, unharmed. But we also live out our lives on the poet's page. As Richard Blanco writes in "One Pulse—One Poem":
Let's place each memory
like a star, the light of their past reaching us now,
and always, reminding us to keep writing until
we never need to write a poem like this again.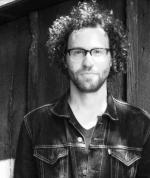 Daegan Miller is a writer, critic, and historian. His work has appeared in or is forthcoming from The Point, Ploughshares, Los Angeles Review of Books, and Bookforum, among other places. His first book, This Radical Land: A Natural History of American Dissent was chosen by both The Guardian and LitHub as a best of 2018. He lives in Western Massachusetts with his family.
Illustration by: Matt Manley. Matt has been working as a freelance illustrator for over twenty years. His illustration is primarily figurative and symbolic with surrealist leanings, and past client work includes editorial, corporate, medical, book, and higher education. Though in the end his work is technically digital collage, the process integrates both traditional and digital media.