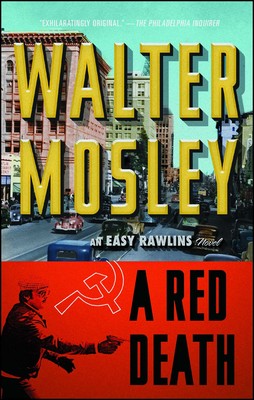 Walter Mosley's A Red Death, the second novel in the Ezekiel Rawlins series, is set in 1953 and borrows a narrative technique shared by many literary writers of stories about youth: an older self looking back with some distance at a younger version of themselves.
Unlike most first-person PI yarns and their cousins, Mosley's two-fisted mystery about the Red Scare, blacklists, and government corruption is written in the further past—the narrator tells his story some distance from the events. Every now and then throughout the story, Mosley will remind us of this distance: "I remember thinking;" "at the time;" "When I think on it now;" ". . . called Foothill Blvd in those days;" "white skinned women amazed me back in those years;" "I hadn't been to the Seventy-seventh Street station for many years. It looked older in the fifties;" "There aren't too many moments in your life when you really learn something. Jackson taught me something that night in John's, something I'd never forget." 
For all of us writers of stories set in the past, we are always aware of a doubleness to every sentence on the page: the time our story is set versus the historical moment(s) we're writing it. We have to be careful to not give our protagonist an awareness of the values we have today. When you're living in the moment, you don't always see the fractures in hegemony. In the 1960s, it was thought formula was better for babies than mothers' milk; over 40% of the population smoked cigarettes; they X-rayed our feet when we went shoe shopping; my soccer coach made us spit out the juice from oranges we sucked on during halftime: "don't want to get waterlogged." 
What Mosley's narrative distance allows for is closing that gap between the sins of the past and an awareness of them in our historical present. Rawlins isn't trapped in 1953's sensibilities. He can comment more fully on issues of colonialism; imperialism; the privileging of whiteness; and racial profiling. He creates elbow room for first-person social commentary that's more aligned with our era.
Mosley's point-of-view explores the hidden nuances of 1953. So when he writes, "You could see something else in Chaim's eyes. I didn't know what it was at the time, but I could see there was a deep pain in the man. Something that made me sad." The doubleness at play here is very sophisticated. The Ezekiel of 1953 feels the moment, but the more distant Ezekiel reflecting on the events, realizes a connection between the two generated through grief and suffering. 
Moreover, Chaim Wenzler, a Jewish activist, exists in a liminal space, white, but not quite white enough. He tells Ezekiel, "They say I am not American. They say I am communist." His ethnicity doesn't count within a powerful white, Anglo-conformity movement. Chaim makes this very subtle distinction apparent when he says, "The white people don't understand being treated like this." Here he implies he's not one of the "white people" and that his experiences are closer to those of African-Americans like Ezekiel. Through Mosley's double voicing (the shifting then versus now perspectives) this nuance lands for Ezekiel and Mosley's readers. By the end of his pyrrhic journey Ezekiel calls Chaim his friend and mourns his death.
So when is "the writing" of A Red Death set? Late in the novel's narrative arc, Ezekiel tells us he donated a thousand dollars to a back to Africa movement, and its leader, Sonja Achebe, "has sent me postcards from Nigeria for over thirty years." That places the novel's "writing" in a post-1983 period, when Ezekiel (born 1920) would be in his sixties. I'd like to think we're all full of wisdom and a greater awareness of social injustices by the time we reach our sixties.
In Chapter 19, Mosley deepens his playing with time. Here he uses the habitual tense to compress several days together giving us a complex yet summarized version of Chaim and Ezekiel's relationship: "In the day time I worked with Chaim Wenzler. He was a hard worker and a good man;" "I'd wait in the car and Chaim would beg for clothes and other items;" "We always went to coffee shop restaurants for lunch;" "Chaim liked to tell stories and laugh, or cry." It's an integrated relationship; they work together, hang in public together, and Chaim shares stories of working with the Communist underground to fight the Nazi's. Eventually, with the "one day" transitional device, Mosley tunnels down to a narrative telling half-scene: "'What do you do for money, Chaim?' I asked him one day," and from there, Mosley slides into an epiphany, a moment of connection between the two men:
Chaim grabbed my hand in viselike grip. There were tears in his eyes. We sat there holding hands and looking at each other until I got a little uncomfortable. Then he said, "I saw them hang my brother when I was a child. He was accused of spitting in a soldier's path. They hung him and burned down my mother's house."
I won't say those few words made us friends, but I understood Chaim Wenzler then.
By condensing the backstory between the two men to a single chapter, Mosley doesn't have to slow down the main mystery arc to his story for long. He can take this brief pause, and through the habitual tense (the ongoing), he can provide us with enough context to earn the novel's mournful ending and its accompanying emotional complexities of lost friendship, betrayal, and guilt.
---
Special thanks to UNI graduate seminar in Contemporary Literature with Alyssa Jensen, Jeffery Jones, Kersten Kahley, Hannah McConkey, Katrina Sandvik, and Jake Volk for helping shape some ideas shared here.